Posted on
Sun, Jun 16, 2013 : 4 p.m.
U-M Medical School's curriculum revision gets boost from $1.1M award
By Amy Biolchini
The University of Michigan Medical School has won a $1.1 million grant from the American Medical Association to accelerate its major curriculum revision, officials announced Friday.
U-M is one of 11 schools across the country to win the grant from the AMA in a competitive application process. The five-year grant is intended to promote change in medical education.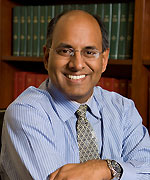 Courtesy U-M
Faculty at U-M's Medical School have been reviewing the curriculum in earnest for the past year, said
Dr. Raj Mangrulkar
, associate dean for Medical Student Education at U-M.
Mangrulkar said the Medical School does an "outstanding job" now in producing doctors with extensive scientific knowledge and clinical skills — but society demands doctors that know how to work as a team and to lead change.
"We don't think we can change the health system — not just U-M, but the national health system — without changing our graduates," Mangrulkar said.
Part of the new team-based health care model the Medical School is pursing in its curriculum includes a concept called "M-Home."
A group of 12 to 15 students would be assigned to work together in a learning community for the four years of their training at the Medical School.
Each M-Home unit would be linked with a set of faculty advisers and mentors that would follow the students through their career at U-M.
The M-Home concept seeks to change the way students interact with faculty advisers now, Mangrulkar said, explaining that a student at U-M typically encounters many different advisers that can frequently change.
For U-M Medical School students, their first two years are dedicated to classroom work and their final two years are in a clinical setting.
Mangrulkar said the curriculum revision seeks to end that model and expose students to the clinical side of health care beginning in the first year.
"We will be working deliberately with our hospital and clinical environment," Mangrulkar said.
The M-Home groups of students will regularly meet to collaborate in their learning process, Mangrulkar said — a dynamic that will be facilitated in the $55 million renovation of the Taubman Health Sciences Library.
The $1.1 million grant from the AMA will be used by the Medical School to support faculty members working on the curriculum revision, to train faculty for their new teaching roles and to invest in new software, hardware and infrastructure to help students access research.
The other recipients of the AMA grant are the following institutions:
Indiana University School of Medicine
Mayo Medical School
NYU School of Medicine
Oregon Health & Science University School of Medicine
Pennsylvania State University College of Medicine
The Brody School of Medicine at East Carolina University
The Warren Alpert Medical School of Brown University
University of California - Davis School of Medicine
University of California - San Francisco School of Medicine
Vanderbilt University School of Medicine
Amy Biolchini covers Washtenaw County, health and environmental issues for AnnArbor.com. Reach her at (734) 623-2552, amybiolchini@annarbor.com or on Twitter.