Posted on
Tue, Sep 3, 2013 : 5:58 a.m.
U-M officials 'thrilled with the results' after first game with new general admission student section
By Ben Freed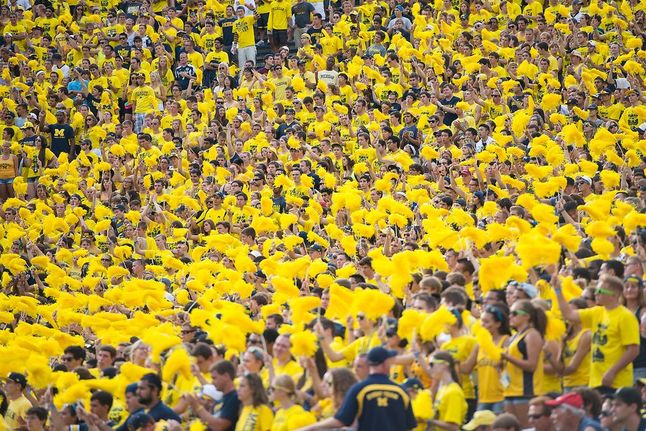 Courtney Sacco I AnnArbor.com
The student section at the Big House was full Saturday.
It was full 30 minutes before kickoff. It was loud.
There are many factors that go into when a student decides to show up for a football game, but the new general admission seating system appeared to have changed the calculus. Some students lined up as early as 7 a.m. to secure front row seats.
The team noticed the difference. Head coach Brady Hoke used his opening remarks at the post-game press conference to thank the students for showing up early and staying involved.
"One thing I really want to do is thank our students and our fans," Hoke said.
"It was really neat to see that student section in the maize and all that stuff when we went out for our warmups and it just kept building. I want to thank our students because it's fun when they're there. They make the atmosphere and the game fun."
The new system was not without kinks, but associate athletic director and chief marketing officer Hunter Lochmann said that the first game proved that the system will solve the problem it was intended to address.
"I think we're all really thrilled with the results, with the amount of students who were in the stands and when they got there," he said.
"Everyone related to the football program was extremely happy. It's fantastic to have a game under our belt, but this week is a whole new set of challenges."
Those challenges include figuring out the timing for opening the queue that students wait in to get seats in the first few rows of the stadium. The line opened at 7 a.m. for the Central Michigan game, and Lochmann admitted that it was probably too early after seeing only approximately 100 students arrive in the first three and a half hours.
"The first three games are huge learning opportunities," he said.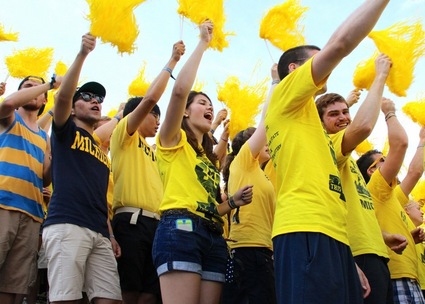 Ben Freed | AnnArbor.com
"We learned a ton of immediate improvements we can do, things as simple as signage and where the queue is to traffic patterns and where students are coming from. We can work on the flow of students from queue to shoots, and then from the chutes down to their seats."
Lochmann said the line will open as announced at 11 a.m. for the Notre Dame game that is scheduled to kick off at 8 p.m. on Saturday.
"It's fantastic to have a game under our belt, but this week is a whole new set of challenges," Lochmann said.
"Now with [ESPN's] Gameday here you're going to have students up there till noon. And there are a lot of other things going on around campus, there's a volleyball game at 2 p.m. but we still think we're going to have a much busier queue."
Some students at the Central Michigan game said they planned to arrive well before 11 for the Notre Dame game, but there is no plan from the university for dealing with a line to get into the queue.
"We'll see who's there and what happens at 11," Lochmann said. "We'll see if there are people loitering around and we'll go from there."
One of the primary complaints from students attending the Central Michigan game was that it was difficult to seat large groups together if they did not enter the stadium at precisely the same time. Lochmann said that there are not going to be any changes in regards to group seating at the Notre Dame game, but that a special emphasis will be placed on ensuring that every seat is occupied.
"With general admission, not everyone packs in a row which leaves a few gaps here and there and then once you get to the top you're getting a lot of seats that aren't packed in," Lochmann said.
"The biggest change will be enforcing and making sure that every row and every seat is taken before we move on. If there are 20 seats in a row, there should be 20 students."
Ben Freed covers business for AnnArbor.com. You can sign up here to receive Business Review updates every week. Get in touch with Ben at 734-623-2528 or email him at benfreed@annarbor.com. Follow him on twitter @BFreedinA2