Posted on
Thu, Sep 15, 2011 : 12:37 p.m.
U-M professor fired for political views returns to campus 57 years later
By Kellie Woodhouse
Fifty-seven years after being fired from the University of Michigan for his political views, mathematician Chandler Davis returned to campus under much brighter circumstances.
Davis — who was fired from U-M in 1954 for creating and distributing literature for the Communist Party and jailed in 1960 for refusing to cooperate with a congressional investigation into his political actions— was honored Tuesday during a lecture by U-M English literature and American culture professor Alan Wald.
U-M's College of Literature, Science and the Arts this year awarded Wald, a longtime lecturer at the U-M, a professorship. The English department allowed Wald to name the professorship after a person of his choice and Wald, commending the former professor for his bravery, chose Davis.
Davis taught mathematics at U-M from 1950 to 1954, during the Cold War era. In 1953, Davis, then in his twenties, was caught distributing pamphlets about the Communist Party. At the time, being affiliated with the party was considered subversive.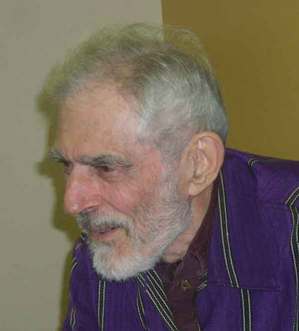 Photo courtesy of Alan Wald
Knowing this, Davis nonetheless used his full name to sign a check to the printing company that published the pamphlets. Today, Davis says that throughout his involvement with the Communist Party, he was fully aware of the risk of being fired or subpoenaed by Congress.
In fact, before his own firing, Davis watched more than 50 of his acquaintances and friends become blacklisted, jailed or fired because of their political beliefs.
"I was familiar with that risk, several of my friends had already been fired. I knew what was up," says Davis, now 85. "That was just the kind of thing that happened in that day."
In the spring of 1954, the university launched an investigation into Davis' activities, along with an investigation into the political affiliations of two other professors. That fall, Davis was subpoenaed to testify before the U.S. House of Representatives' Committee on Un-American Activities and subsequently fired by U-M.
Davis says that although he was an active communist, "I didn't bring politics into my classes."
In all stages of the investigation, Davis refused to cooperate with authorities, but instead asserted his right to free speech protected under the First Amendment.
Other individuals targeted by the Committee on Un-American Activities pleaded the Fifth Amendment, which allowed them to refuse to answer questions on the grounds that the answer could incriminate them.
Davis, however, chose a different path.
"Most people took the Fifth Amendment so they wouldn't risk going to prison, but Davis took the first amendment because it was a freedom of speech issue," Wald said. "He behaved consistently about his right to hold his own political views and discuss them when he felt like it, as opposed to when other people demand that you discuss your politics."
Davis says he refused to cooperate because he "was concerned about the effect that (the committee) had on people's ability to discuss society and politics. It closed down discussion."
In the fall of 1954, Davis was criminally convicted of contempt of Congress. After exhausting all he appeal options, he served six months in federal prison starting January 1960.
Davis, blacklisted after his firing at U-M, says that in the years following his testimony he was unable to find employment as a professor.
"We were impoverished for a while," Davis said of his family.
As a result, Davis moved his family to Canada in 1963 and has lived there ever since, working as a lecturer at the University of Toronto. He is now retired.
"I sometimes describe myself as a refugee," Davis says now. "But I did what I felt was the right thing in 1954 and haven't regretted it since."
In the more than half-century that has passed since his unlawful firing, Davis has never received an apology from U-M.
"The regents haven't noticed us," Davis says. "Whatever they said in the way of apology… wouldn't do me any good because I've had a good life in Canada, but it might do the University of Michigan some good."
"It's not good to leave a record like this," Davis continued.
Wald said that while naming his professorship after Davis "is a gesture or reconciliation" by the College of Literature, Science and the Arts, it's not enough.
"It's close to an apology, but I think it would be better if the president of the university issued a public apology," Wald said. "Other universities have done more, they have issued apologies."
U-M spokesman Rick Fitzgerald declined to address the issue.
Wald said it's important for U-M to acknowledge Davis' firing in some way.
"They made a mistake that had a negative affect on academic freedom," he said. "They can't ever do it again."
Kellie Woodhouse covers higher education for AnnArbor.com. Reach her at kelliewoodhouse@annarbor.com or 734-623-4602 and follow her on twitter."