Posted on
Thu, Jan 17, 2013 : 5:58 a.m.
Renowned U-M professor of human sexuality Sylvia Hacker dies at age 90
By Cole Bertsos
Sylvia Hacker — renowned author, TV host, lecturer and professor emerita at the University of Michigan — died in her sleep Sunday in her apartment in Lawrence, Kan., according to her obituary.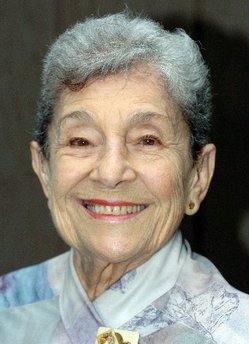 Ann Arbor News file photo
Born on Oct. 19, 1922, she got a degree in biology from Brooklyn College and earned her Ph.D. at U-M at the age of 53, where she later taught courses in human sexuality. According to her obituary, she was known for "outspoken theories" on the sexuality continuum as well as appearances on TV shows such as Phil Donahue and Montel Williams.
She and her husband Charles Hacker, who passed away in 1978, are survived by two daughters, Randi Hacker and Avry Budka; a granddaughter, Juliana Hacker; as well as her sister, Sunnie Kurtzman.
Sylvia Hacker also is known for her book, "What Every Teenager Really Wants to Know about Sex," as well as her own TV show "Sexy Minutes" in the early '90s.
A funeral was held at noon Wednesday at Schwartz Brothers-Jeffer Memorial Chapels in Forest Hills, New York.
Cole Bertsos can be reached at colebertsos@annarbor.com.