Posted on
Tue, Jan 15, 2013 : 7:29 p.m.
U-M professor Shaun Jackson dies from burns suffered in plane crash
By Cindy Heflin
Editor's note: This article was updated Wednesday morning with additional information about Jackson's background and family.
William Shaun Jackson, a professor at the University of Michigan School of Art and Design, died Tuesday from burns suffered in a small plane crash last weekend near Sarasota, Fla.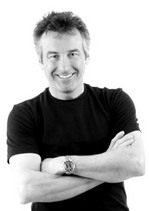 Jackson, 63, known to friends, colleagues and family members as Shaun, was considering buying the seaplane and had gone to Florida to look at it and test it out, his business partner said. Jackson, who belonged to the Michigan Flyers flying club, had owned planes in the past and wanted a seaplane to use for trips from Ann Arbor to his cottage in Canada, located near the water, said his business partner, Mark Zadvinskis. "He had been dreaming about this float plane," he said.
He was a passenger in the plane when it crashed, killing the pilot, John Ardoyno, 70, of Hayward, Wis. Jackson was able to get out of the plane but suffered severe burns. He had been treated at Tampa General Hospital.
Zadvinskis and Jackson have been business partners for 18 years at Shaun Jackson Design and Higher Ground, which makes cases and accessories for laptops and tablets. Zadvinskis, who has been in contact with Jackson's family, said the past few days have been difficult at the small, close-knit company.
"He's been our spiritual leader and our sounding board," Zadvinskis said. "He'll truly be missed by friends and family. "
Jackson was athletic and youthful, Zadvinskis said. He cycled, played hockey and liked skate skiing.
"Even though he was a 63-year-old man he was not really 63," Zadvinskis said. "He was a very young guy. … You never would have guessed his real age."
News reports from Florida said Jackson ran from the plane after it hit two trees, crashed and burst into flames on the New College campus near Sarasota-Bradenton International Airport
Former air traffic controller Rich Parker told an ABC affiliate station in Florida Jackson got out of the plane and went to a ditch where he told him to roll around to extinguish the flames. Parker said he couldn't get the pilot out of the burning plane.
In addition to his position at the School of Art and Design, Jackson also taught at the university's Taubman College of Architecture and Urban Planning, and in the Steven M. Ross School of Business.
Jackson was also an inventor, designer and entrepreneur. He founded his first company, Eclipse Inc., while still an undergraduate student at U-M, where he studied architecture, the university said in a release about his death.
Under his leadership, the company grew from a small venture to a multimillion-dollar corporation with a global distribution network. Eclipse was selected as a case study for a National Endowment for the Arts research project titled "The Competitive Edge: The Role of Design in American Business.
His company has done design and product development work for Nike, Herman Miller, L.L. Bean, Eddie Bauer, Brookstone, Harley Davidson, and Patagonia.
He holds more than 50 patents, according to his biography, and is a respected member of the design community, Zadvinskis said, having received several national and international honors.
Jackson is survived by his wife, Catherine Banish-Jackson, sons Taylor and Ryan, and stepdaughters Sydney and Rachel Tuchman.
Gunalan Nadarajan, dean of the School of Art and Design, called Jackson a "model of the interdisciplinary educator, in an email sent to the school's faculty and staff.
"For more than two decades, Shaun has been a dedicated and beloved member of our community, mentoring generations of designers and sharing his optimism and love of life with all of us," Nadarajan wrote. " … The entire university has lost a true friend and citizen."
Funeral arrangements are pending.
Cindy Heflin is associate news director at AnnArbor.com. Contact her at cindyheflin@annarbor.com or 734-623-2572 or follow her on Twitter.