Posted on
Wed, Mar 24, 2010 : 9:49 a.m.
University of Michigan professors help Royal Shakespeare Company round out the creative process
By James Dickson
The Royal Shakespeare Company's relationship with the University of Michigan has entered its second generation.
In its three previous visits to Ann Arbor, the company has focused on public performances of classic and original works. But in its current, and fourth, trip to Ann Arbor, the troupe is more focused on the process of creation than the end result.
"I need you to be my guarantor"
Professor Ralph Williams had had a long day. He was ready to go home and make it an early night that day in 2000. Williams was on the way to his car when a booming voice called his name.
"Ralph!" the voice called. But no one was in sight.
"Ralph!" the yell went out again, but this time when Williams turned around, Kenneth Fischer, head of the University Musical Society, was standing behind him.
Fischer was hosting a delegation from the England-based Royal Shakespeare Company for dinner and thought the popular English and religion professor would like to join. 
Join he did, and by the time coffee was served, the gregarious professor was making plans to visit England - which he did five times over the next year. In 2001, the RSC came to Ann Arbor for its first residency. 
Ever since, Williams has served as a liaison between the Royal Shakespeare Company and the University of Michigan.
The will to form a partnership was strong from the start, Fischer said, but resources were another matter.
"I had to go to (then U-M) President Lee Bollinger," Fischer said. "I told him, Lee, I can't afford this, but we need it. I need you to be my guarantor."
Bollinger needed more convincing, which took place on a trip to New York City. He and Fischer met several RSC principals to discuss what value an ongoing relationship with the company could bring the university.
Bollinger decided to sign off, and the residencies have been part of the university's budgets ever since.
The U-M President's Office is still the major funding source for the RSC's visits, along with the Ross School of Business - which provides its facilities at a deep discount - and the University Musical Society.
This year's fellowship is different than the others and represents Fischer's ultimate selling point to Bollinger: Not only would the RSC come to Ann Arbor to perform, in time it would come to create art as well. The spectacle of main stage public performances and cameos has been replaced by behind-closed-doors collaboration between RSC players and the U-M community.
And rather than performances and ornate sets, this year's public readings are modest "insights," all with varying aspects of reading, background information, and discussion - and all free of charge.
Another new wrinkle in this year's fellowship is the addition of NYC-based theatre troupe Labyrinth, which will join the RSC in presenting this year's selections. Labyrinth, a multicultural outfit, has been around since 1992.
Williams said bringing Labyrinth adds an exciting new element to the RSC residency, as the RSC and others in the theatre community look to assemble casts that resemble the modern world.
Several events during the 11-day fellowship are open to the public, but many more will be held for the benefit of U-M students in the drama, English, and theatre departments.
U-M scholars part of the process
Playwright Helen Edmundson of London had never been to Ann Arbor before arriving on Sunday. Edmundson, playwright of an RSC-commissioned piece on Sor Juana Inez de la Cruz, said she's excited for what U-M faculty can teach her about the world of her muse.
Sor Juana, a late 17th century Mexican nun, fell into hot water with the Catholic Church for writing plays and poems dealing with affairs of the heart. Edmundson's play details the struggles the nun faced when a strict new archbishop came to town and demanded she drop her writing.
"We're not here to give the people what they want," the archbishop says to one of Sor Juana's defenders, "we're here for their souls."
Edmundson, who has been writing plays for more than 20 years, took an interest in Sor Juana after watching the RSC perform "House of Desires," a play penned by the nun. Edmundson then approached the RSC about writing an original play on Sor Juana's life. The company accepted.
Monday's table reading was the first time Edmundson heard the play performed by actors. Aside from the odd word or two - "benignant" and "politesse" rolled trippingly off the tongue - the reading went smoothly.
Afterward, Professor Daniel Ramirez, whose religion class sat in for part of the reading, stayed to discuss the life and times of Sor Juana with playwright and cast.
One cause for confusion was the nun's relationship with the vicereine, who commissioned several of the plays that got Sor Juana in hot water. Ramirez cautioned Edmundson and the actors not to view the relationship, which was more of a loving friendship than anything approaching a romance, through a modern-day lens.
Ramirez explained Sor Juana has been discovered by feminists over the last 20 years, and is viewed in some circles as a proto-feminist who came centuries before her time. Today, Sor Juana is held in such high esteem in Mexico that she graces the 200-peso bill.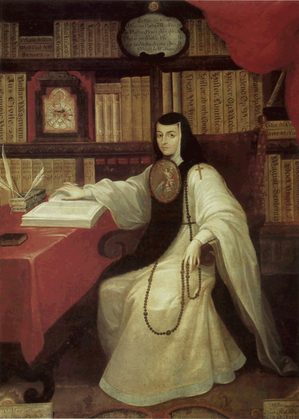 With that, the actors broke for the day, but Edmundson's work day wasn't done. 
She went off with U-M music professor Louise Stein, an expert in the music of Sor Juana's day, to listen to some tunes and scare up some inspiration.
Edmundson said that she'd likely do another re-write, supplementing the play with what she learned from the U-M scholars. Edmundson's not sure how much of the 65-page play will be read publicly tonight, but said that the play will be polished and ready for the 2011 season.
Will anything Ramirez or Stein contributed make its way into the public reading? Or the finished play?
No one knows, not even Edmundson.
"The creative process...you just can't rush it," Edmundson said.
James David Dickson can be reached at JamesDickson@AnnArbor.com.
WHEN AND WHERE:
The Royal Shakespeare Company
Insight on "Sor Juana Inez de la Cruz"
Ross School of Business' Blau Auditorium
Tonight at 701 Tappan Street
6 p.m. to 8 p.m.
Other public Royal Shakespeare Company events:
Friday, March 26, 2 p.m.
Insight for "Cardenio", a new version of the play by Shakespeare and Fletcher
Location: Keene Theatre (East Quad, 701 East University Avenue)
Insight for "Written on the Heart" (King James Bible play, by David Edgar)
Blau Auditorium (Ross School of Business, 701 Tappan St.)
Saturday, March 27, 4 p.m.-6 p.m.
Discussion of the Bible as literature with RSC director Greg Doran, playwright David Edgar and Ralph Williams
Location: The Library Gallery, 100 Hatcher Graduate Library (just off the Diag)