Posted on
Wed, Jan 4, 2012 : 1:07 p.m.
Four U-M professors among scholars dubbed most influential education thinkers
By Kellie Woodhouse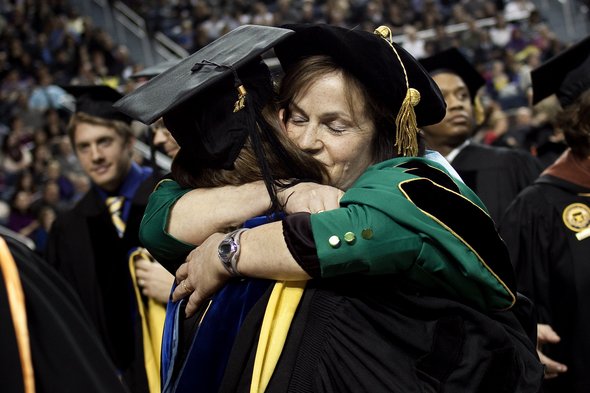 Four University of Michigan professors were recently ranked among the 121 most influential education scholars in 2012 by Education Week columnist Rick Hess.
U-M School of Education professor David K. Cohen was dubbed the tenth-most influential education scholar in the nation.
SOE Dean Deborah Loewenberg Ball, who recently hosted U.S. Secretary of Education Arne Duncan for a roundtable discussion, was ranked 32nd on the list. Public Policy professors Brian A. Jacob and Susan Dynarski were ranked 53 and 64, respectively. Both specialize in education policy.
The list, which Hess calls the Edu-Scholar Public Presence Rankings, is based on the amount and popularity of books, articles and academic scholarship each scholar publishes and the scholar's presence among a variety of media outlets.
In his rankings, Hess tracks the number of times scholars are mentioned in the media. For example, Cohen was mentioned by blogs at least 50 times and Ball was mentioned by education press outlets about four times between Jan 1, 2011, and Dec. 20, 2011.
The rankings also take into consideration an academic's status as a "Google scholar," which is tracked by the number of articles and books a professor has authored that are widely cited. Cohen scored a 33 and Ball scored a 50. The median score among the 121 professors was 20.
The top-ranked scholar is Stanford University's Linda Darling-Hammond, who received a Google scholar score of 83 and was mentioned by education press outlets about 42 times and received more than 50 blog mentions.
Standford's education school is ranked fourth in the nation by U.S. News and World Report, while U-M's school is ranked ninth.
In addition to his blogging/columnist duties at Education Week, Hess is the American Enterprise Institute's director of education policy studies.
Check out the rankings here and methodology behind them here.
Kellie Woodhouse covers higher education for AnnArbor.com. Reach her at kelliewoodhouse@annarbor.com or 734-623-4602 and follow her on twitter.