Posted on
Thu, Oct 13, 2011 : 3:57 p.m.
$14M renovation to Yost Ice Arena will trim total seats - but add premium seating
By Kellie Woodhouse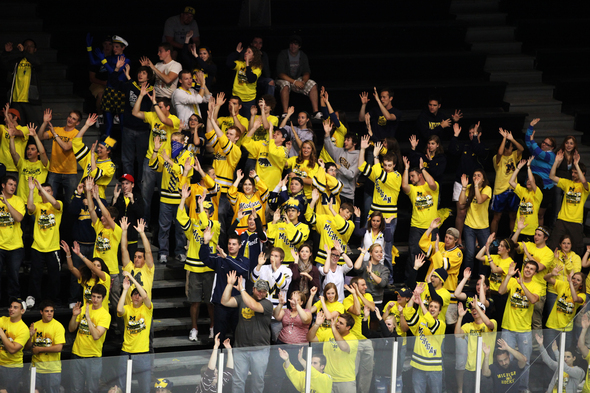 Jeff Sainlar I AnnArbor.com
Once the University of Michigan Yost Ice Arena undergoes a $14 million renovation, its capacity will decrease by about 400 seats, a project architect told the U-M Board of Regents today.
Seating at the Ann Arbor ice arena will go from about 6,200 to 5,800.
"The capacity will go down some," said Henry Baier, associate vice president for facilities and operations. Yost's current maximum capacity —which is different than seating— is approximately 6,600.
But while seating overall will decrease, premium seating will increase.
"The premium seating will go from about 300 to about 500," said Matt Rossetti, a principal with Rossetti Architecture Inc, the firm designing the renovation.
The proposed renovation will replace the majority of spectator seating and includes improvements to the east and west concourses. Additionally, transparent windows will replace the current windows, which are opaque. The transparent windows will not allow glare.
"Yost Arena, form our perspective,… is always the model that people want to be like," Rossetti said. "We've enhanced the legacy by bringing back the old luster."
A level-four media balcony will be converted into a series of luxury boxes and a new level of seating on the arena's west side will be created for media.
Corner platforms will also be added for more seating.
Rossetti said the corner platforms will become "probably the best seats in the house"
Non-premium seating will remain bleacher style.
"It's such a tiny containter you cannot [have seat backing]," Rossetti said.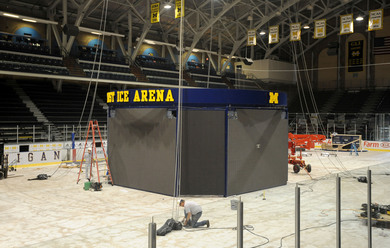 Angela J. Cesere | AnnArbor.com
Rossetti's schematic design for the multimillion dollar renovation was approved by the regents at their meeting today in Flint. The renovation concept was approved by the regents in June.
The regents also voted to let the athletic department award early procurement packages, which will allow contractors to begin certain aspects of construction without regents' approval, such as crafting new bleachers.
Speeding up the construction process is necessary in order to reach the scheduled completion date of fall 2012, Baier told the regents.
According to Baier, construction on the actual arena will not begin until the end of this year's hockey season. Renovations will be finished by the start of next season.
"That is speedy," U-M President Mary Sue Coleman said.
"We have to play hockey here and we're going to make that happen," Baier said.
The renovation is part of a series of facelifts for Yost.
It follows the June installation of a new LED scoreboard with nine video boards. The scoreboards were part of a $20 million project to replace the decade-old scoreboards at Yost, Crisler Arena and Michigan Stadium.
"There will new lighting, new VAC and this absolutely fantastic scoreboard," Rossetti said.
During construction, several parking spots will be obstructed, limiting parking near the arena this season. However, there will be no permanent parking loss due to construction.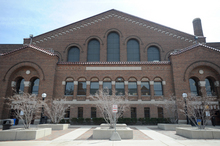 The project will be funded by the athletic department, according to a memo addressed to the board of regents.
Yost was built in 1923 and has served as home for the Michigan hockey team since 1973. The arena was renovated in 2001 to add a club-level balcony on the east side. In 1996, a $5.5 million renovation remodeled seating, locker rooms and administrative offices.
Kellie Woodhouse covers higher education for AnnArbor.com. Reach her at kelliewoodhouse@annarbor.com or 734-623-4602 and follow her on twitter.