Posted on
Fri, May 17, 2013 : 5:59 a.m.
Parking permit fee increase OK'd by U-M regents
By Kellie Woodhouse
University of Michigan regents approved a one-year freeze on its parking permit rates and three years of increases to its two highest-tier passes.
The Board of Regents approved parking rates for 2013 to 2017 during their public meeting Thursday held at U-M's Dearborn campus.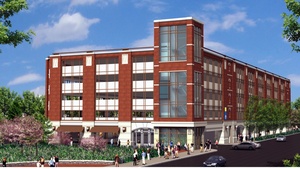 University of Michigan rendering
U-M Chief Financial Officer Timothy Slottow said revenue from parking passes will go toward managing and expanding the parking system, paying for free bus passes for employees and funding a renovation project for the school's unions and gyms.
He said the school is able to have a one-year freeze because U-M Parking and Transportation Services of has "some efficiencies" in its operations.
"We don't have to increase rates in order to manage the system" this year, Slottow said, joking: "I haven't received any thank you's yet from faculty and staff."
For 2014 fiscal year, rates will stay at current levels for the two tiers of passes that allow drivers to park within walking distance of core areas of campus, which annually are $1,577 for gold permits and $667 for blue permits. By 2017 the cost will have increased 12.5 percent to $1,774 for gold permits and 8.25 percent to $722 for blue permits.
For yellow and oranges passes —the two lowest-level permits that cost $153 and $76, respectively and usually require parkers to bus into core campus areas— costs will remain unchanged until 2017, when they'll rise 3 percent.
The university also will raise its contribution to employee's parking cost to $163 by 2017, a $13 increase.
This year 1,676 employees have gold passes, 14,651 have blue passes, 7,244 have yellow passes and 2,762 have orange passes.
Rates for permits to city structures in Ann Arbor are $1,680 per year.
Kellie Woodhouse covers higher education for AnnArbor.com. Reach her at kelliewoodhouse@annarbor.com or 734-623-4602 and follow her on twitter.