Posted on
Tue, Sep 20, 2011 : 12:29 p.m.
University of Michigan research funding soars to $1.24 billion - and new record
By Kellie Woodhouse
Research spending at the University of Michigan last year grew to $1.236 billion, the highest level in university history.
The $97 million —or 8.5 percent— increase from $1.139 billion the previous year is due in part to a major boost in funding from the National Institutes of Health, U-M said Tuesday.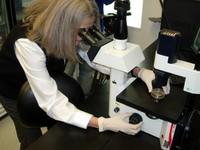 NIH increased U-M's funding by $70 million during the 2011 fiscal year, raising it to a record $571 million. NIH funds 46.2 percent of research at U-M.
U-M Vice President for Research Stephen R. Forrest praised the increase in a release issued today.
"This continued growth in funding shows the commitment of the federal government, industry, and other sponsors to investing in the future," he said.
U-M first broke the $1 billion mark during fiscal 2009, when research funding totaled $1.016 billion, a 12 percent increase from $929 million in fiscal 2008.
In September 2010, The National Science Foundation ranked U-M first among public universities in research and development spending.
Federal spending, which accounts for two-thirds of U-M research dollars, grew 9.8 percent last year.
Aside from NIH, significant increases in federal funding were:
A 30 percent increase from the Department of Energy, climbing to $35.4 million in fiscal 2011 from $27.1 million during fiscal 2010 and accounting for nearly 3 percent of U-M's research budget.
Funding from the Department of Commerce increased by 13.7 percent, rising to $10.8 million from about $9.5 million.
Funding from the Environmental Protection Agency increased by about $1.6 million—or 81 percent— to $3.57 million last year from $2 million during fiscal 2010.
Significant decreases in federal funding include:
A 6.5 percent decrease in funding from NASA. The $16.4 million awarded by NASA in fiscal 2010 decreased by $1.1 million this year.
Funding from the Department of Defense decreased by 4.9 percent, or about $3 million. Last year, U-M received $62.7 million in DOD funding, down from nearly $66 million the previous year.
U-M received about $3.8 million less from the Department of Transportation, representing a 25 percent decrease from fiscal 2010 levels of $10.5 million.
Private funding, which accounts for one-third of U-M's research spending, increased by 8.6 percent last year.
Endowment, financial gifts and industry grants account for much of that increase. However, funding from foundations did decrease by $3.4 million, or 13.6 percent.
Kellie Woodhouse covers higher education for AnnArbor.com. Reach her at kelliewoodhouse@annarbor.com or 734-623-4602 and follow her on twitter.