Posted on
Thu, Jan 31, 2013 : 6:45 p.m.
U-M researchers: Generation X interacts in person and on Facebook equally
By Kellie Woodhouse
Is the online world of Facebook, Twitter and Instagram eclipsing the face-to-face conversation?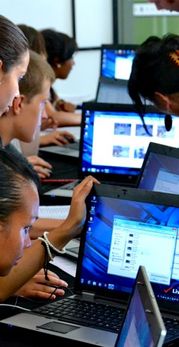 It appears that among individuals in their late 30s, both types of socializing get equal play.
For now.
According to University of Michigan researchers, those Generation X adults report engaging in 75 in-person and 74 electronic conversations each month.
In the course of a typical month, participants reported sending 39 nonwork emails, using Facebook nearly 23 times, using Twitter four times, Skyping once, and sending digital pictures seven times.
"Given the speed of emerging technologies, it is likely that electronic contacts will continue to grow in the years ahead, eventually exceeding face-to-face interactions," U-M researcher Jon D. Miller said in a release.
The study interviewed 3,027 participants in 2011.
Kellie Woodhouse covers higher education for AnnArbor.com. Reach her at kelliewoodhouse@annarbor.com or 734-623-4602 and follow her on twitter.