Posted on
Fri, Aug 16, 2013 : 9:43 a.m.
U-M researchers present discussion on climate change Aug. 20; Ann Arbor Cantata Singers hold auditions
By AnnArbor.com Staff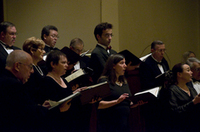 From a presentation on climate change to auditions being held for the Ann Arbor Cantata Singers, here's a roundup of some of the stories posted on AnnArbor.com's Community Wall this week:
By: Erica Ackerman: Answers on Climate Change from University of Michigan Climatologists
On Tuesday, August 20th two prominent climate researchers from the University of Michigan, Professors Henry Pollack and Christopher Poulsen, will present an introduction to the science of climate change, discuss global and local impacts, and answer your questions.
By: nancy: Ann Arbor Cantata Singers Announce Auditions
Ann Arbor Cantata Singers is a smaller mixed choir with a 52-year tradition of presenting choral concerts spanning six centuries. We are pleased to announce auditions for the coming 2013/2014 season.
By: Chris Pentago: Did Cloud Computing Died a Little With Lavabit's Closure?
By: Karen Worthy: Nine - N - Wine to Benefit Step Out Walk to STOP Diabetes
By: Andrew Thomas: Coffee With School Board Trustee Andy Thomas
By: julieswhimsies: Rep. Tim Walberg (R)
By: jessa: Great time, great cause: Dawn Farm Jamboree!
By: Ann Arbor Jaycees Foundation:
Ann Arbor Jaycees Foundation Awards Three Grants
AnnArbor.com's Community Wall is a spot for local people to post local stories, news and announcements. To post a story, sign in to AnnArbor.com, then go to www.annarbor.com/community and use the Got News? Tell Us function at the top to submit your news. If you have a photo to add, e-mail it to us at community@annarbor.com, and we'll insert it into your story.