Posted on
Sun, Oct 16, 2011 : 5:01 p.m.
University of Michigan spending $440 million to upgrade residence halls
By Kellie Woodhouse
By the end of 2013, the University of Michigan will have spent $440 million updating residence halls since 2006.
Starting five years ago, the Ann Arbor university began its residence life initiative— a sweeping effort to update its dormitories and improve the residence life experience at U-M.
Prior to Mary Sue Coleman becoming U-M president in 2002, the school had not built or seriously renovated a residence hall in 32 years. Now, U-M is building or renovating a hall once every year.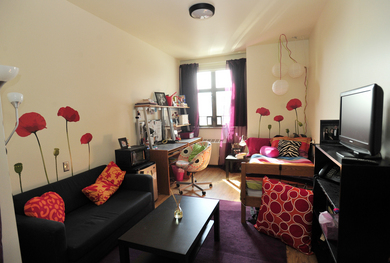 Melanie Maxwell I AnnArbor.com
"Our halls were far from state of the art," Coleman said in an interview. "We went too long in between (updates), and that's when you get behind."
The result of the five-year effort is striking. Everything in the updated dorms —from the light fixtures to bathroom backsplashes to lounge furniture to the new iMac models in study areas— is set to impress.
"We're not doing this necessarily to compete with other schools; we're doing this to provide a good residential experience that students today and in the next several years will expect," said Peter Logan, University Housing communications director. "It does play into our ability to attract good students."
Linda Newman, director of University Housing, said that residence halls could be the factor that pushes students toward U-M.
"There are many factors that go into a student making a choice, and if all things are equal between the two schools and the residence halls are more comfortable —have more space, more bathrooms— I think we would find students gravitating toward the more comfortable living space," Newman said. "It is a serious contender for the overall quality of a student's experience."
Melanie Maxwell | AnnArbor.com
Logan and Newman said the mega-million price tag is par for the course.
"It's like a small city that we're managing here," Logan said. "It is a lot of money and it doesn't fully address the infrastructure needs that are out there."
The following residence halls have undergone or are about to undergo renovations. North Quad is the only wholly new structure on the list.
East Quadrangle Renovation: Currently in the planning stages with a budget of $119 million.
Lawyers Club: Currently in the planning stages with a budget of $39 million.
Alice C. Lloyd Hall: Currently under construction with a budget of $56 million.
Couzens Hall: Reopened in 2011 after $49 million renovation.
North Quad: Opened in 2010 after $75 million construction project.
Stockwell Hall: Reopened in 2009 after a 39.6 million renovation.
Hill Dining Center: Reopened in 2008 after 21 million renovation.
Mosher Jordan Hall: Reopened in 2008 after 44.1 million renovation.
Aside from the Lawyer's Club renovation, which is being paid for in part by a large donation and in part by the law school, the majority of residence hall renovations are funded by University Housing, which derives its funding from student room and board fees.
Since the residence life initiative started, University Housing has set aside 2 percent of student room and board fees for the renovations.
"We don't have $40 million that we're handing over every year; the 2 percent that we assign to the residence life initiative projects is paying for the financing for these projects," Logan said.
In the past two years, student dorm fees have increased by 3 percent each year. This year's increase marks a $276 increase in the rate for a student in a standard double room. A double room is now $9,468 per year. A single room is $11,300.
Of the renovation costs, Logan says 85 to 90 percent is to improve the infrastructure of the updated residence halls. The remaining 10 to 15 percent goes toward finishings and furniture.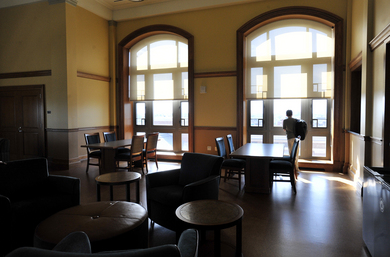 Melanie Maxwell I AnnArbor.com
At Couzens Hall, a $49 million renovation project, $1.5 million was spent on furniture. Of that $1.5 million, about $750,000 was spend on dormitory room desks, beds and dressers. The remaining $750,000 was spent on common area furniture.
"The aesthetics is very important," said Coleman of the new dorms. "It's crucial…. The aesthetics of a place really adds to the whole experience."
Aside from the dorm renovations, Logan said it is normal for University Housing to spend about $8.5 million in large-scale maintenance projects per year.
Kellie Woodhouse covers higher education for AnnArbor.com. Reach her at kelliewoodhouse@annarbor.com or 734-623-4602 and follow her on twitter.