Posted on
Mon, Sep 19, 2011 : 1:27 p.m.
U-M says 'errors' were made and halts book digitization project after copyright questions arise
By Kellie Woodhouse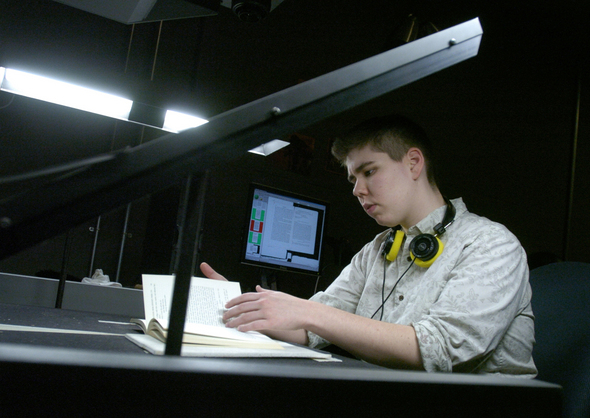 Ann Arbor News file photo
Five days after the
Authors Guild
filed
suit
against the
University of Michigan
for its plans to release hundreds of digitized "orphaned" copyrighted books to faculty and students, the university halted the controversial project and admitted to committing a
"number of errors, some of them serious."
Before pausing the program, U-M planned to release 27 books on Oct. 13 and an additional 140 books starting in November as a part of the Orphan Works Project. The books would be accessible to anyone —students, faculty and staff— with a U-M login and could be printed or copied at will.
The release is part of U-M's HathiTrust project, an initiative to digitize the university's complete library collection.
However, a lawsuit filed by the Authors Guild and two other literary guilds, one Canadian and the other Australian, maintains that many works deemed orphans by U-M have living authors or author relatives that still claim copyright rights but do not know about the digitization project.
Aside from U-M, four other HathiTrust participating schools were named in the lawsuit: The University of California, the University of Wisconsin, Indiana University, and Cornell University.
"Our pilot process is flawed," the U-M Library said in a statement issued Sept. 16. "Having learned from our mistakes—we are, after all, an educational institution—we have already begun an examination of our procedures to identify the gaps that allowed volumes that are evidently not orphan works to be added to the list."
Two days after filing the lawsuit, the Guild announced it had discovered a bestselling author of one of the orphaned books who had no knowledge of the Orphans Work Project and who did not wish to participate. According to the Guild's blog, the author, Jack Salamanca, author of "The Lost Country," is a former professor in the University of Maryland's English Department with a literary agent, two movie deals and a recently signed E-book deal.
"If HathiTrust's researchers can't locate a bestselling author with a literary agent, an author who's also a retired professor from a major East Coast university, how are they going to locate authors in other countries?" the Guild asked. "Few of the authors of those books would have had the successes of Jack Salamanca. But countless of them, no doubt, would want to maintain control of their works."
In a release issued last week, Guild president Scott Turow criticized U-M's digitization project, saying that it puts copyrighted works needlessly at risk.
"Even if it weren't for this preposterous, ad-hoc initiative, we'd have a major problem with the digital repository. Authors shouldn't have to trust their works to a group that's making up the rules as it goes along," Turrow said.
Despite admitting to mistakes, the U-M emphasized the legality of the HathiTrust in its statement.
"Once we create a more robust, transparent, and fully documented process, we will proceed with the work," U-M said in the statement. "We remain as certain as ever that our proposed uses of orphan works are lawful and important to the future of scholarship and the libraries that support it."
According to U-M Dean of Libraries Paul Courant, the Orphans Work Project is intended to increase the readership of works that are out of print, not to damage their integrity.
"Sharing these orphan works does no economic harm to any person or organization, while not doing so harms scholarship and learning by severely limiting access to 20th century works," Courrant said in a June release.
Kellie Woodhouse covers higher education for AnnArbor.com. Reach her at kelliewoodhouse@annarbor.com or 734-623-4602 and follow her on twitter.