Posted on
Thu, Jun 14, 2012 : 2:24 p.m.
U-M scientists contribute six new stem cell lines to registry for disease research
By Amy Biolchini
Scientists at the University of Michigan Health System have cultured six new human embryonic stem cell lines that are now available for use by genetic disease researchers across the country.
The new lines, derived from donated embryos, quadruple the number of stem cell lines U-M has made available through the National Institutes of Health's official registry.
A stem cell line is cultured from a cluster of cells removed from an embryo within several days of its creation. The line can create millions of genetically identical cells, useful in research because of their ability to divide and change into any cell type in the human body.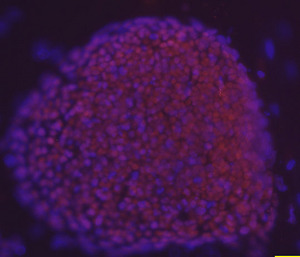 Courtesy of University of Michigan Health System
Five of the stem cell lines U-M has contributed to the registry contain genetic mutations for serious diseases, including:
Hemophilia B
: a severe bleeding disorder.
Huntington's disease
: a fatal brain disorder.
Hypertrophic cardiomyopathy
: A heart condition that causes sudden death in athletes, others.
Charcot-Marie Tooth disease
: a common inherited neurological disorder.
Hydroxysteroid Dehydrogenase 4 Deficiency
: a rare hormone disorder
U-M researchers was announced the creation of the cell line carrying the gene for hemophilia B by in April 2011. It was among the first to carry genetic defects for specific diseases.
The stem cell lines carrying the genetic mutations will be used to study origins of the diseases and potential treatments, U-M officials said.
Federally funded researchers have to apply to U-M for use of the line. The federal registry has 163 stem cell lines, including the new ones from U-M, and most of them do not contain major disease genes.
The lines were derived from clusters of about 30 cells removed from 5-day-old embryos donated for research - each of which were about as large as a period at the end of a sentence.
The embryos were initially created for reproductive purposes, but after testing positive for genetic disorders, they would have been discarded had the couples involved not decided to donate them.
U-M is one of only three academic institutions to have disease-specific stem cell lines listed in the national registry, said Dr. Sue O'Shea, Ph.D., professor of Cell and Developmental Biology at the U-M Medical School, and co-director of the Consortium for Stem Cell Therapies.
U-M scientists announced the creation of their first human embryonic stem cell line in October 2010. The university had its first stem cell line accepted to the national registry in February.
Amy Biolchini covers Washtenaw County, health and environmental issues for AnnArbor.com. Reach her at (734) 623-2552, amybiolchini@annarbor.com or on Twitter.