Posted on
Tue, Dec 6, 2011 : 7:05 a.m.
U-M sells 13,000 of its allotted Sugar Bowl tickets on first day
By Paula Gardner
About 75 percent of the University of Michigan's allotted tickets to the Sugar Bowl were sold Monday, the first day that Wolverines fans could buy seats to watch the team in its bowl game, the Michigan Daily reported.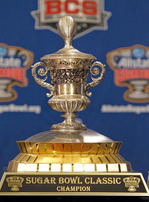 Of those tickets, about 1,800 went to students for a price of $97, according to the report.
U-M was allotted 17,500 tickets for the Jan. 3 game against Virginia Tech in the Mercedes Benz Superdome. The stadium's capacity is about 76,000, and a few non-U-M tickets remain available.
The University of Michigan Alumni Association also is selling tickets as part of tour packages.
Meantime, Virginia Tech sold almost 5,000 of its allotment of 17,000 tickets as of Tuesday afternoon, although only donors and season-ticket holders have been able to purchase them so far, according to the Roanoke Times.