Posted on
Tue, Nov 2, 2010 : 6:03 a.m.
University of Michigan student group pushes for ordinance to restrict police surveillance cameras
By Heather Lockwood
A group of University of Michigan students calling themselves Students Against Surveillance is pushing for an ordinance to restrict the use of police surveillance cameras in Ann Arbor.
Cameras haven't yet been introduced or discussed here, but group members say they're advocating for an ordinance after cameras have popped up in several other cities.
The proposed ordinance calls for a ban on police surveillance cameras in outdoor parks and residential areas, and would restrict the use of cameras to "high-crime" areas of the city, said William Leaf, an SAS leader and U-M history junior.
"We're not trying to ban surveillance cameras — we're trying to restrict them in a fair and good way," Leaf said.
Download a copy of the proposed ordinance here.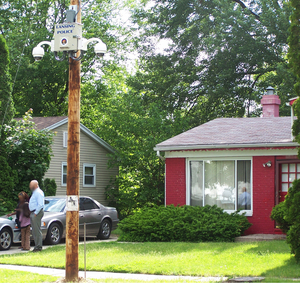 Photo courtesy of William Leaf
Leaf said his two main motivations for creating the group and writing the ordinance are to prevent potential government abuse of power and to protect "privacy for its own sake."
"Police shouldn't have total access to personal lives," Leaf said.
The public is invited to attend an SAS meeting at 8 p.m. Wednesday in the Michigan Union's Sophia B. Jones room.
The city of Ann Arbor doesn't currently have a police surveillance system in place. And Ann Arbor Police Lt. Angella Abrams said she has heard "nothing whatsoever" about the possibility of police surveillance cameras eventually being used in the city.
Bennett Stein, a U-M public policy junior and SAS member, said once the systems are in place, it's hard to get them removed because money and resources have already been invested. That's why SAS hopes to have restrictions in place before cameras ever are — if they ever are.
"(The use of surveillance cameras) is a quickly growing trend, and right now the police have the power to put them in wherever they want," Stein said.
Rana Elmir, spokeswoman for the American Civil Liberties Union, said police surveillance systems are "ineffective, expensive, and undermine our privacy."
"(The ACLU) opposes surveillance cameras, especially in residential areas," Elmir said. "There's a growing body of research ... which shows cameras' effect on crime is inconclusive and ineffective at best."
She said video surveillance systems, especially in residential areas, "chill innocent speech" and do very little to deter crime.
There's also the potential for abuse of such systems, Elmir said.
"Camera operators are human and, therefore, they make mistakes — the surveillanve videos can be used for inappropriate purposes, whether voyeurism, stalking or harassing," she added.
Elmir said the use of surveillance systems is a policy issue more than a legal issue.
"Is this how we want our society to be?" she asked, likening the systems to Big Brother or something out of George Orwell's dystopian novel, 1984.
Stein said even though SAS is a student group, surveillance issues impact the entire community. "We want to work with the community," he said.
He added, "Surveillance cameras, in themselves, may not be illegal, but the potential for abuse is very great."
Leaf said the proposed ordinance offers a middle-of-the-road alternative. He said police surveillance cameras should only be used when necessary, and not for the "mass surveillance of the people."
"Some cities haven't wanted to put in surveillance cameras at all, and some cities have gone to the extreme (in using them)," he said.
Leaf said the group's next steps are to gather support and find a city council sponsor.
The Lansing Police Department currently uses 13 of what it calls public video surveillance cameras, said Lansing Police Chief Teresa Szymanski.
The cameras were installed from 2008 to 2009, and all but two are in residential areas, according to department spokesman Lt. Noel Garcia.
Download a map indicating the general locations of the cameras here.
Garcia said having the surveillance cameras is an "officer safety issue." When a crime is committed in view of one of the cameras, police dispatchers are able to watch the incident in real-time and provide crucial information to officers responding to the incident, he said.
Heather Lockwood is a reporter for AnnArbor.com. Reach her at heatherlockwood@annarbor.com or follow her on Twitter.