Posted on
Sat, Jan 14, 2012 : 2:27 p.m.
U-M student injured in fall at Cancer Center is in good condition
By Lee Higgins
A University of Michigan student who was injured early Friday morning as he climbed down from a roof at the U-M Comprehensive Cancer Center is in good condition, university police spokeswoman Diane Brown said this afternoon.
The 20-year-old student, who is from St. Clair Shores, climbed down from a second-floor roof at about 1:15 a.m., dropped 10 to 15 feet onto a glass overhang, slipped and struck his head on the overhang.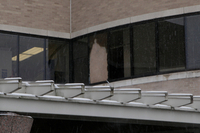 Chris Asadian | AnnArbor.com
He sustained head trauma and was in critical condition when authorities brought him into the building after breaking out a window. The student is currently being treated at University of Michigan Hospital.
Police continue to investigate why the student was climbing down the outside of the building that he likely accessed from an adjacent parking structure. He was not a patient and was alone.
The student attended an off-campus party prior to the accident, but police declined to say whether he had been drinking. Police said he accessed the second-floor roof from the third-floor roof and was on at least one level higher.
The student's name hasn't been released.
Lee Higgins is a reporter for AnnArbor.com. He can be reached by phone at (734) 623-2527 and email at leehiggins@annarbor.com.