Posted on
Tue, Feb 5, 2013 : 8:45 a.m.
U-M student rides bike across country to raise money for cancer research; Ypsilanti filmmaker to film suspense web series
By AnnArbor.com Staff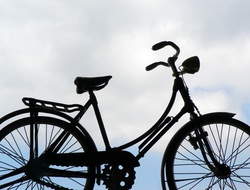 From a U-M student riding her bike across the country to raise money and awareness for cancer research to a Ypsilanti filmmaker raising funds to shoot a suspense web series in southeast Michigan, here's a roundup of some of the stories posted on AnnArbor.com's Community Wall over the past few days:
By: Caroline Lupini: Student rides bike across country to raise money for cancer research!

I am a senior at the University of Michigan, and this summer after I graduate I will be riding a bicycle across the country - from Baltimore, MD to San Francisco, CA - raising money for the Ulman Cancer Fund for Young Adults and raising awareness about cancer.
By: mominypsi: "Framed" Suspense Series Hoping to Film Locally
One local production company, iFilmFlops, is leveraging new opportunities to reach its audience. Writer/Director Jose Mojica has spent the last few years gathering cast, crew, and equipment that will allow him to produce a suspense web series at the same standards as a primetime TV series.
By: U-M Department of Psychiatry: Going the distance for those fighting depression
By: Michael Armitage: Lenten Parish Mission - Immaculate Conception in Milan
By: setsyfly: The Story of LIGHT CAVALRY, episode 7 and The Story of LIGHT CAVALRY, final episode
By: Emily Anderson: Homelessness may be a Steady Problem, but SOS is Here to Help

Response to the Daycroft Montessori School of Ann Arbor Invites All in the Community to Join Them in Donating Pajamas to the Area's Needy Article
Response to the The Lack of Affordable Housing and Family Homelessness Article
AnnArbor.com's Community Wall is a spot for local people to post local stories, news and announcements. To post a story, sign in to AnnArbor.com, then go to www.annarbor.com/community and use the Got News? Tell Us function at the top to submit your news. If you have a photo to add, e-mail it to us at community@annarbor.com, and we'll insert it into your story.