Posted on
Wed, Mar 16, 2011 : 2:39 p.m.
University of Michigan students protest choice of Gov. Rick Snyder as spring commencement speaker
By Juliana Keeping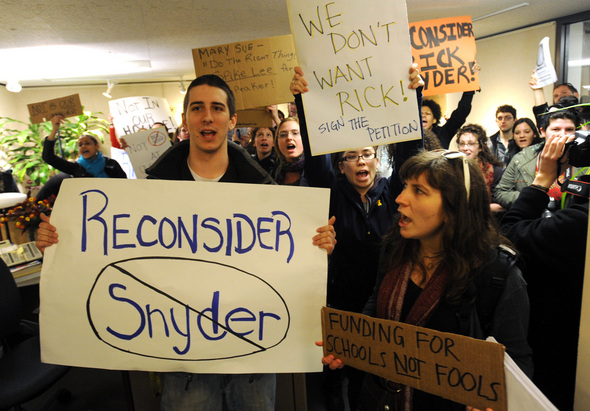 Melanie Maxwell | AnnArbor.com
Characterizing Gov. Rick Snyder's proposed budget cuts as a power grab for the privileged few, dozens of University of Michigan students Wednesday protested the decision to name him the spring commencement speaker.
Michigan President Mary Sue Coleman extended the invitation to the new governor, a tradition since 1967, university officials said. Michigan regents - who rarely disagree with Coleman in public - will decide Thursday whether to approve Coleman's choice of Snyder as the April 30 commencement speaker.
Holding signs that read "Not in our House" and "Graduation cancelled due to budget cuts," dozens of students voiced their concerns in the Diag and at the Fleming Administration Building at a rally organized on Facebook. Rally leaders vowed to take the protest to the monthly regents meeting in Detroit.
Wielding a bullhorn, Michigan senior Zach Goldsmith led the crowd in "Rick is wrong" chant and said he found the choice of Snyder as commencement speaker insulting.
Anti-Snyder rhetoric picked up momentum Wednesday around the state. Michigan College Democrats traveled to a Capitol rally to decry the proposed 15 percent cut to higher education funding, joining seniors who planned to speak out on the governor's plans to tax pensions.
Snyder spokesperson Sara Wurfel said in an e-mail Monday that Snyder is trying to build "a solid and strong Michigan that works for everyone," and that the proposed budget is aimed at preserving safety nets while improving the economy.
Protesters on the Diag said the proposed $1.8 billion tax break to businesses would be made on the backs of the poor and elderly.
A separate online petition organized by U-M student Rick Durance had 4,091 signatures as of Wednesday.
The petition isn't about Snyder, per se, Durance said. He said he wants the university to stop inviting politicians to speak. That rule that would have prevented President Barack Obama from speaking at the 2010 spring ceremony.
"Had Obama been anti-public education, I would have done the same thing," said Durance, a history major.
Though counter protesters weren't spotted in the crowd Wednesday, not everyone had signed on to the anti-Snyder rhetoric. Some Facebook users called the protest organizers hypocrites - at least, online.
Facebook user Michael Reseigh wrote:
"All Snyder's doing is balancing the budget and trying to attract new businesses to this state, something that hasn't been done for the last 8 years under Granholm. Yes, this means some people like seniors who have had a tax-free retirement to start paying taxes on it. Obviously the liberal policies of the last decade have not worked as Michigan has one of the highest unemployment rates in the country since no businesses want to open here."
Via e-mail, U-M spokesperson Kelly Cunningham defended the school's choice of speaker and noted Snyder's ties to the university.
"The choice of commencement speaker is very important to the graduating class, their family and friends attending the ceremony and we work to find someone who will inspire others through the commencement address and by virtue of his or her distinguished accomplishments," Cunningham wrote. "We are very pleased that Governor Snyder, a three time alum of the university before age 23, was able to accept the invitation in his first term."
Juliana Keeping is a health and environment reporter for AnnArbor.com. Reach her at julianakeeping@annarbor.com or 734-623-2528. Follow Juliana Keeping on Twitter