University of Michigan students unveil super fuel efficient vehicle
Posted on Sun, Jun 3, 2012 : 5:58 a.m.
A group of University of Michigan engineering students and recent graduates are using a lawnmower engine to try to prove that a car can get 3,300 miles to the gallon.
They formed a team that will compete in the 2012 SAE International Supermileage Challenge competition, which takes place June 7-8 at the Eaton Corporation Marshall Proving Grounds in Marshall, Michigan.
Lisa Carolin | For AnnArbor.com
U-M's team's challenge is to develop and construct a single-person fuel efficient vehicle (like a motorcycle or moped) with the goal of beating the current record of 3,169 mpg. The team unveiled its vehicle Saturday at Sesi Motors in Ann Arbor.
Team co-founder Laura Pillari is the project manager.
"The University of Michigan has an incredible legacy of student automotive design team success, and going to a competition so close by means we are defending home turf in a way," said Pillari. "It's important to us to maintain the reputation of the university and of the Detroit metro area, historically speaking."
Brett Merkel is the other team co-founder. He says the technology they're using could be implemented in just a few years, and that it would drop the price of single person vehicles and create fewer emissions than current engines.
Merkel has put thousands of hours into the project.
"It makes you a lot more marketable for jobs that are out there," he said, having just graduated and started a job as a design engineer with Stryker.
Pillari also just graduated with a degree in mechanical engineering and is heading to graduate school at Cambridge University in England in the fall. Pillari and Merkel describe the vehicle as extremely lightweight and strong. Like all the teams that will compete, the U-M team is using a modified Briggs & Stratton lawnmower engine.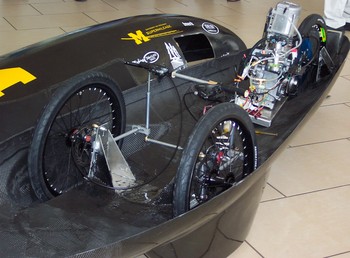 Lisa Carolin | For AnnArbor.com
"We modified the head, cam shaft, bore and piston, valve timing, and everything in between, and designed a drivetrain to transmit power to the wheels as efficiently as possible," said Pillari.
Caroline Lupini, who will become the project manager of the team after Pillari's departure, said, "After the competition next week, we will take the knowledge we get from this vehicle and apply it to next year's project."
"Our goal is to set the North American fuel efficiency record," said sophomore David Coons, who will become the project's chief engineer. "There's still work to be done by next week but we're close."
The vehicle operates on gasoline with a minimum speed of 15 mph and a top speed of 25-30 mph.
Sesi is the team's local sponsor and Ford is its corporate sponsor.
"We want to do as much outreach as possible to let people know these kids are building a car and trying to build a world record," said Naz Sesi, vice president at Sesi Motors, which is located on Jackson Road.
"This is a celebration of the team and its efforts," owner Joe Sesi said."Once you meet these kids you see all their drive and initiative."
The team's faculty advisor, Professor Harvey Bell, who worked as an engineer at General Motors for 31 years, is proud of the students.
"These kids are unbelievable," he said. "Laura and Brett came to see me in November 2010 and asked how to get started. I talked to them about the process, but they've made all the decisions.
"Engineering is a very creative profession, but students don't get to practice being creative. They get to be creative doing a project like this, and they get something for their portfolio."