Posted on
Thu, Apr 18, 2013 : 3:29 p.m.
U-M to buy 4 homes, pursue eminent domain for new dorm on Blimpy Burger site
By Kellie Woodhouse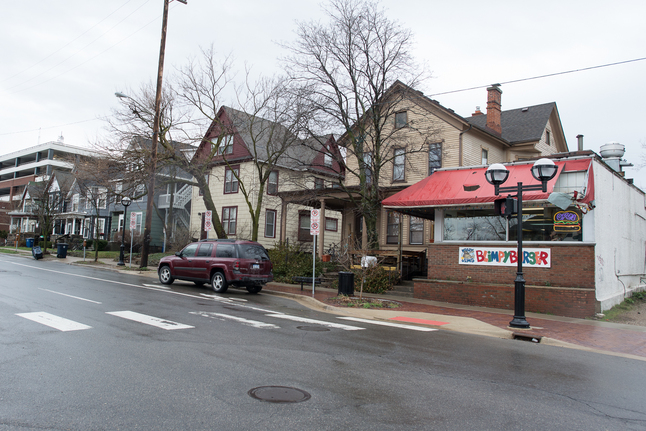 Courtney Sacco | AnnArbor.com
Editor's note: This story has been updated with additional comments.
The University of Michigan plans to build a dormitory for graduate students atop land where Blimpy Burger and several other homes currently sit.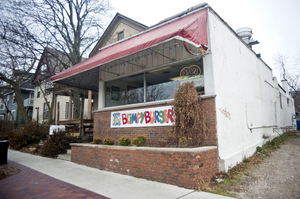 Joseph Tobianski | AnnArbor.com
The school plans to purchase two properties on South Division Street and two properties on East Madison Street for $3.17 million. The properties total just under 0.4 acres. The school recently bought the building that
houses Blimpy Burger
, and an adjacent building, on South Division Street for $1.5 million.
To make way for two other buildings on South Division Street the university is pursuing eminent domain because the owners would not agree to a deal with the university.
"We would like to proceed using the eminent domain process," U-M Chief Financial Officer Timothy Slottow told regents. Slottow wrote in a memo that negotiations with the property owners "have failed" and said the parcels "are necessary for the project."
Regents approved the purchases, the building, and the eminent domain request during a public meeting Thursday. The 370,000 square-foot project will cost $185 million. The apartment-style dorm will house 600 students.
The new building was made possible by a $110 million gift from Charles Munger. The gift is the largest donation in university history.
The properties the university is buying are at 535 and 537 South Division Street and 401 and 409 East Madison Street. They are registered to William C. Martin, former University of Michigan athletic director. When asked about the potential sale of the properties recently, Martin's son, Mike Martin, declined to comment.
The university is pursuing eminent domain to acquire the properties at 541 and 543 S. Division Street. They are owned by David Copi and managed by Copi Properties. Copi couldn't immediately be reached for comment.
The university will also be using a surface parking lot on Thompson Street as land for the new building. Krazy Jim's Blimpy Burger owner Rich Magner was notified in late 2012 that he would need to vacate the Blimpy Burger building at 551 S. Division St. when his current lease expires in August. Patricia Shafer, the property's long-time owner and wife of Blimpy Burger's original founder, Jim Shafer, sold the property to the University of Michigan for $1.075 million in December.
"I think they should leave a space in there (the new residence hall) for Blimpy's, don't you?" Manger said. "That'd be nice if they did."
Magner said earlier this month he is confident he will find a new space for his iconic Ann Arbor restaurant before his current lease expires in August.
"I'm going to certainly miss being here and a lot of things about this location are unique and very difficult to duplicate," he said. "There will be no problem in duplicating the food, that's for sure. A lot of my employees will come with me too, and we'll be taking many of the fixtures."
A crowd of regulars mixed with first-time guests were ordering burgers Thursday afternoon. Some posed outside the restaurant for pictures with the sign.
Mike Christopher, a 20-something living in Canton, said he came to visit Blimpy Burger Thursday because he saw it on "Diners, Drive-ins and Dives."
"I liked it," Christopher said. When he heard that U-M would be taking over the corner to build a dorm and that Blimpy would be closing at that location, Christopher shook his head.
"I think it should definitely stick around," Christopher said.
Born and raised in the city, Jeff Himlin, 39, of Ann Arbor, ordered his usual Thursday afternoon from Blimpy: A quad patty with cheese, grilled onions and mushrooms, wrapped up to go.
"I love Blimpy," Himlin said.
As long as Blimpy Burger stays in Ann Arbor and stays local, Himlin said he's not upset about them moving or the transition of the corner to a dormitory.
"Those four houses are old; this place is old too," Himlin said. "Change happens — they're building and expanding all over town."
James Franklin, 40, of Ann Arbor, was not happy to hear a dormitory would be replacing Blimpy Burger. He's been eating there for 20 years.
"I think it's bad," Franklin said.
Franklin said the development would create jobs and a more harmonious campus for students at U-M, but the removal of Blimpy Burger from the corner would leave a hole in the city.
"It takes a little bit away from what Ann Arbor is," Franklin said.
Until Thursday, the university had not divulged what would go on the site of the restaurant.
The school has commissioned Integrated Design Solutions LCC and Hartman-Cox Architects to design the new building.
In an December interview after regents approved the purchase of the Blimpy Burger property, Slottow said the surrounding South Division Street area was considered a strategic location by the university.
"When we do purchase property, it is for a very specific mission driven purpose or it is very strategically located property," he said in an interview with AnnArbor.com. "These houses on Division Street, you can see they're right on the edge of central campus and we have virtually no empty buildable property on central campus at this moment."
Lizzy Alfs, Amy Biolchini and Ben Freed contributed to this report.

View Division-Thompson Street Property Acquisition in a larger map
Kellie Woodhouse covers higher education for AnnArbor.com. Reach her at kelliewoodhouse@annarbor.com or 734-623-4602 and follow her on twitter.