Posted on
Thu, Dec 13, 2012 : 7:32 p.m.
University of Michigan student protesters demand tuition equality for illegal immigrants
By Kellie Woodhouse
With red tape over their mouths, roughly 100 University of Michigan students wearing maize T-shirts pushed their chairs aside and sat on the ground during a Board of Regents meeting Thursday.
The students were silently protesting against current tuition practices at the university, which don't offer illegal immigrants who attended Michigan high schools in-state tuition.
For more than a year, a large group of students have petitioned U-M for tuition equality.
"What's happening isn't right. Undocumented students unfairly have a barrier," said John D'Adamo, a U-M junior and a member of the U-M Coalition for Tuition Equality who protested during the 4 p.m. regents meeting. "They're often discouraged from coming to the University of Michigan."
Tuition equality would allow illegal immigrants who attended Michigan high schools to attend the college for in-state rates, which are $12,994 for underclassmen this year. Currently, illegal immigrants would pay $39,122, the out-of-state rate for underclassmen.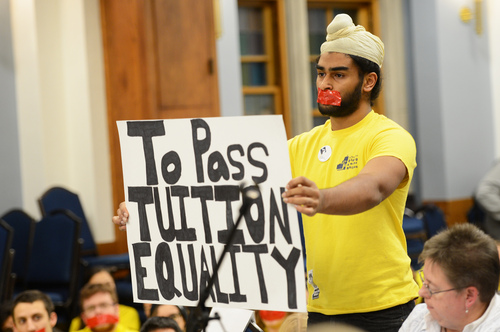 Melanie Maxwell I AnnArbor.com
The tuition difference, equality supporters say, puts U-M out of financial reach for most illegal immigrants that grew up in Michigan.
During the public comments session, Curdit Suri —red duct tape over his mouth— stood before regents while a recording of his message played. Suri talked about his grandfather, who attended the university decades ago.
"He is ashamed that the University of Michigan fails to lead on tuition equality, that the university deprives bright undocumented students the same transformative opportunity that has allowed him to attend here," Suri said in the recording.
Added Maria Cotera, a faculty member speaking on behalf of the Latino studies program at the school: "We are very surprised that the university is placing barriers to qualified resident students who have show great resilience and drive... and who, but for a lack of a social security number, would likely make important contributions to the betterment of the state."
U-M task force looking into tuition equality
This semester, a task force assembled by U-M Provost Philip Hanlon began meeting biweekly to establish recommendations for tuition equality at the school. The group will present a final report of recommendations to U-M President Mary Sue Coleman, although the group is lagging behind the end-of-the-semester deadline originally set by Hanlon.
"So far the working group hasn't come up with a anything and the administration has refused to make public comments on the issue," said D'Adamo, a U-M junior. "This [protest] is essentially to try to show the administrators and others that there are a lot of students on this campus that are for tuition equality."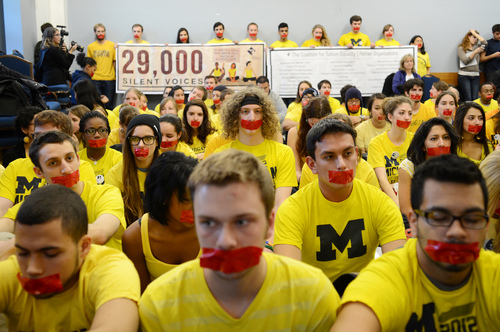 Melanie Maxwell I AnnArbor.com
Hanlon said the university isn't offering any statements on tuition equality until the task force finishes its report.
"We want to hear what they have to say," Hanlon said in an interview.
Hanlon said the task force is composed of three students and three administrators, each group writing different sections of the report. The group recently visited two flagship universities in California that have tuition provisions for illegal immigrants.
"The group did take trips out to University of California at Los Angeles and Berkley... They talked to people out there about how they did things," Hanlon said. "I thought that was important because those are two institutions that are comparable in many ways, in quality and being public."
Hanlon expects the report to be completed in January, he said.
Other schools
Students in attendance criticized U-M for being slow to change its tuition practices. They cited other schools, nationally and locally, that have more immigrant-friendly policies.
"We all believe everyone deserves an equal opportunity," said junior Rachel Oakford, who attended the protest. Fellow attendee freshman Connie Gao called tuition equality "a human issue."
Tuition equality varies throughout the state, although multiple student bodies are rallying college administrators to establish an equality policy.
Eastern Michigan University's Board of Regents earlier this year determined that the school could not offer undocumented students in-state tuition rates because doing so, administrators found, could violate federal grant and funding requirements.
The school is, however, looking into establishing a scholarship fund that would offer illegal immigrants grants that would reduce their tuition to in-state levels.
Western Michigan University students who can prove in-state residency are awarded in-state tuition, regardless of their citizenship status.
Massachusetts also announced a plan in November to allow illegal immigrants in-state tuition rates at public colleges. A form of tuition equality was recently legalized by voters in Maryland. In that state, illegal immigrants can attend in-state colleges for free after proving they've attended state high schools and spent two years in a state community college.
One illegal immigrant spoke to regents during their public comments session. She said she grew up in Michigan and wanted to attend U-M as an undergraduate, but couldn't afford the out-of-state rate she would need to pay.
"I am here putting a face to this issue. I am only one of 29,000 undocumented students that are here in the state of Michigan and that are affected by this policy," said Xochitl Cossyleon. "Be on the right side of history and be the leaders and the best on this issue."
Kellie Woodhouse covers higher education for AnnArbor.com. Reach her at kelliewoodhouse@annarbor.com or 734-623-4602 and follow her on twitter.