Posted on
Wed, Feb 24, 2010 : 6 a.m.
University of Michigan doctor stops to help in multi-vehicle accident on I-94
By Tom Perkins
David Grainger can't recall much in the moments after a high-speed car crash on I-94 earlier this month.
But what Grainger does remember after being involved in the Feb. 13 accident came as a great relief. Dr. Ed Wilkins, a reconstructive surgeon at the University of Michigan Hospital, came to his side.
Wilkins informed Grainger he was a trained doctor and told him not to worry. Wilkins then began working to get the 51-year-old Utah resident onto a blanket.
The crash occurred as Grainger was traveling eastbound on I-94 at about 2 p.m. Feb. 13 with three friend - all of whom live in Utah - to look into real estate development possibilities in Detroit.
According to the Michigan State Police, Grainger's car rear-ended a Chrysler Town and Country minivan. Investigators couldn't determine the speed of Grainger's car because there were no skidmarks.
One of the responding officers, Sgt. Chris Pascoe, said it appeared a driver cut off another car several vehicles ahead of the rented Camry that Grainger was traveling in. Pascoe said the driver of the Camry never saw the minivan ahead quickly hit the brakes.
The Camry slammed into the rear end of the minivan driven by a 43-year-old Ann Arbor woman. Her van hit another vehicle, and all the vehicles were knocked several hundred feet off the road, according to witness statements.
Pascoe said both cars were totaled, and all four men were transported to the U-M Hospital, while the woman driving the van and another person were taken to St. Joseph Mercy Hospital.
"Of course it's going to make you elated to hear that a doctor stopped," Grainger said. "It was awesome. He was there within minutes of me remembering what was going on, and I can remember him helping my friend and making sure he wasn't going into shock. That's all I remember."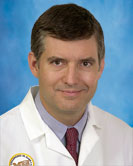 Wilkins said Grainger appeared headed toward hypothermia, and although medical authorities say to never move traffic accident victims before first responders arrive, Wilkins knew how to proceed.
He log-rolled Grainger onto blankets while keeping traction on his neck to prevent further damage if Grainger had a spinal injury. He made certain Grainger's head, neck and back remained in a single axis, which Wilkins said is essential in preventing injury.
"He was on his side in the snow and looked extremely pale and cold," Wilkins said. "I felt we needed to keep him off snow onto something warmer. But unless people have trauma training, they should not try to move anyone hurt in an accident at all."
Grainger, who was released from the hospital Saturday after spending a week there, said he has only briefly spoken with his friends and doesn't know the extent of their injuries. No information on any of other injuries was available from police or U-M Hospital officials.
Pascoe applauded Wilkins for helping to make sure everyone was secure before the first responders arrived.
"I was grateful he had everything under control when we got there," Pascoe said. "I thought it was neat that he had taken his coat off and was making sure the gentleman didn't hurt himself anymore."
Wilkins said several other motorists stopped and donated their coats and blankets. He also commended the first responders for arriving so quickly.
"The other people who stopped who were very helpful, and the first responders were there within five minutes," he said. "Their response time was very quick."
"Once the pros get there and get to work, the best thing I can do is get out of the way."
Tom Perkins is a freelance writer for AnnArbor.com. Reach the news desk at news@annarbor.com or 734-623-2530.