Posted on
Sat, May 25, 2013 : 5:58 a.m.
Specialized unit for older hospital patients opens under University of Michigan, St. Joseph Mercy collaboration
By Julie Edgar
An exclusive geriatric inpatient unit developed jointly by the University of Michigan Health System and St. Joseph Mercy Ann Arbor will open Tuesday at St. Joe in Superior Township.
The Acute Care for Elders (ACE) unit marks a full-scale collaboration between the two hospital systems and introduces southeast Michigan to an integrative model of care that is making inroads nationwide and appears to improve patient outcomes. There are about 25 such units across the country.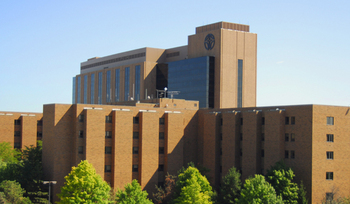 Photo courtesy of St. Joseph Mercy Health System
The 32-bed unit (the unit will start with 16 beds) will serve acutely ill adults 70 years and older who are admitted to either hospital. It will feature a homey atmosphere with private, spacious rooms, along with state-of-the-art apparatus that assist patients in showering, toileting, and getting out of bed, ample handrails and other assistive devices throughout, pressure-relieving mattresses and low-set beds. There are sleeping amenities for family members, too, and regular times for them to meet with their loved one's attending physician.
''We have the opportunity to define an actual physical space, and the space is beautifully set up for older patients,'' says Karen Hall, a clinical professor in U-M's Department of Internal Medicine, division of geriatric and palliative medicine. She'll serve as the ACE unit's medical director.
Acute geriatric unit care is defined as having at least one or more of these components: medical review, early rehabilitation, early discharge planning, a conducive environment, and patient-centered care.
U-M Hospital is typically full, and there is no dedicated space for older patients, who require a different level of care, Hall says. St. Joe's had the space on the 10th floor of its East Tower, 5301 McCauley Drive, and a new initiative between the hospitals was born.
''It was the sun, moon and stars coming together,'' says Rob Casalou, president and CEO of St. Joseph Mercy Ann Arbor and Livingston hospitals. ''You have the Turner Geriatric Center at U-M, St. Joe's legacy of fine nurses and the available space; we have the perfect alignment.''
The unit will be run under a joint operating agreement between the two hospitals.
The initial investment of both hospitals in the ACE unit was $125,000 each to cover equipment and staff training, says Robin Damschroder, associate hospital director of operations and clinical services for U-M Hospitals and Health Services.
The interdisciplinary model of care means a team of specialists will develop a care plan for and be assigned to each patient. That includes social workers, physical therapists, a pharmacist, nurse practitioners, and dietitians from St. Joe's - all trained in geriatric care and all of whom asked to work in the unit, says Hall. Three physicians, two from U-M, will treat patients, along with two U-M geriatricians. The ratio of nurses to patients will be 3-1.
Hall says patients will likely stay no more than 5 days. To be admitted, patients must meet the Medicare criteria for being acutely ill. After treatment, they would either go home or to a subacute facility.
"We're hoping to do a better job of transitioning them out of the hospital,'' says Hall. A key objective, she says, is lowering hospital readmission rates among patients (also a federal mandate), but research has not shown that ACE care significantly reduces them.
However, a review of more than a dozen studies into the outcomes of ACE care, published in the Journal of the American Geriatric Society this month, found that patients generally fare better following their stay in ACE units. The review showed fewer falls, less delirium, less functional decline, a shorter length of hospital stay, and fewer discharges to nursing homes.
Julie Edgar is a freelance writer for AnnArbor.com.