Posted on
Fri, Mar 15, 2013 : 9:33 a.m.
UM SOUP dinner funds creative projects in Ann Arbor; My Urban Toddler hosts Easter egg hunt March 30
By AnnArbor.com Staff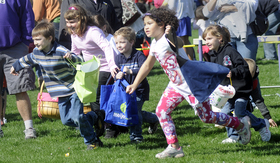 AnnArbor.com file photo | Jeff Schrier/MLive Media Group
From a dinner that raises funds for creative projects to an Easter egg hunt sponsored by a local business, here's a roundup of some of the stories posted on AnnArbor.com's Community Wall this week:
By: Izzy Morrison: UM SOUP - Dinner Funding Micro-Grants for Creative Projects in AA
For $5, A2 residents and UM students can have a fun evening learning about local projects, eating a local meal, jamming to live music, and voting on their favorite community project!
By: My Urban Toddler Events: 6th Annual My Urban Toddler Easter Egg Hunt!
Your whole family will enjoy cookie decorating, craft projects, play and dinner at this private event. At the conclusion of the evening, the Easter Bunny will lead your children in an egg hunt.
By: Angela816: The Importance of a Crisis Team
By: Erin K. O'Neill: Ann Arbor Social Media Agency Seeks Digital Marketing Interns For Summer 2013
By: PurpleWalrusPress: Straight Dope: Baffling Silence Surrounds Homicide Of EMU Student
By: jkoolick: Blood Drive to End Donor Discrimination
By: Jackson Community College: Enriching math and science sessions sought for May conference
By: Donna DeButts: Ypsilanti District Library and the Eastern Michigan University Library Receive Muslim Journeys Bookshelf Collection
By: Erik Gable: 'Art & Sole' 5K planned for April 5 in Adrian
By: Dawn Farm Education Series: "Hi, I'm 'Pat' and I'm an alcoholic ... "
AnnArbor.com's Community Wall is a spot for local people to post local stories, news and announcements. To post a story, sign in to AnnArbor.com, then go to www.annarbor.com/community and use the Got News? Tell Us function at the top to submit your news. If you have a photo to add, e-mail it to us at community@annarbor.com, and we'll insert it into your story.