Posted on
Sat, Sep 7, 2013 : 11:30 p.m.
Under the lights and outside the Big House: The story around the stadium
By Ryan J. Stanton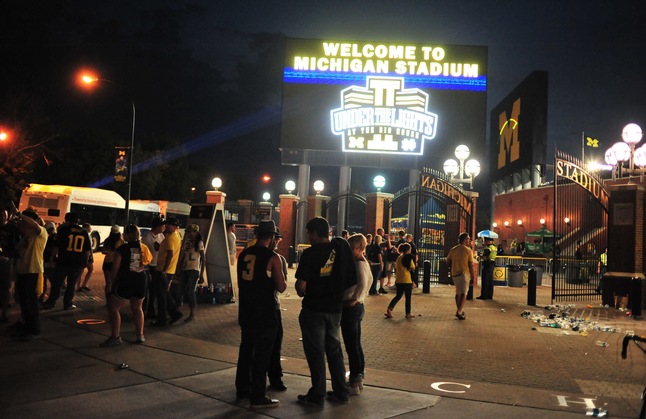 Ryan J. Stanton | AnnArbor.com
The luck of the Irish only goes so far.
Dozens of Notre Dame fans — and yes, some Michigan fans, too — lingered outside the Big House for more than an hour after Saturday night's game started, searching for the elusive extra ticket to Under The Lights II, and many came up empty handed.
For those lucky enough to score a last-minute ticket from a scalper, the going rate seemed to be about $140-$150.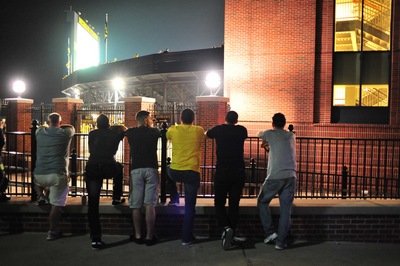 Ryan J. Stanton | AnnArbor.com
"We tried to buy tickets, but we couldn't find any, so we just kept walking and found that people were watching the game," said Julie Rowan, a Notre Dame fan who called off her search and found a place to sit outside the stadium along a closed-down Main Street.
Rowan and a friend — and about a dozen other fans — found spots in view of the scoreboard at the northern end of Michigan Stadium and watched the game from there.
Others, like Justin Will and Brian Koch of Ann Arbor, were content tailgating nearby and watching the game on TV.
Will and Koch and about three dozen others gathered around a glowing screen set up outside a Greyhound bus parked just southeast of the stadium. The tailgate was hosted by Tom and Jackie Anderson, University of Michigan graduates who now live in Holland.
"This is awesome. This is the biggest tailgate out here," Koch said.
"Two years in a row we've won best tailgate of the year," Will said. "We have food, we have alcohol, we have a good time. No riffraff."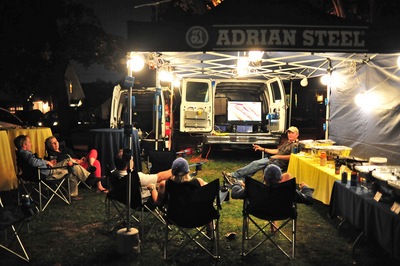 Ryan J. Stanton | AnnArbor.com
On a lawn half a block west of the stadium, David Pilmore, president of the Adrian Steel Co., watched the game with friends on a TV set up in the back of a van, with the roar of the crowd at the Big House creating a true surround-sound experience.
"It's a tradition for us. We've been doing this for decades," he said. "It's something we come out and do with our customers three or four times a year and it's always enjoyable."
Local school students Delia Binetti, Sarah Lancaster, Delaney Sperlbaum and Lexie Sperlbaum used Saturday's game as a chance to raise money by selling homemade cookies and brownies just down the street from the stadium.
"I've been doing this since I was a little kid," said Lexie, now 14 and at Pioneer High. "Sometimes it's to help us with school trips or when we're doing sports and we have to pay for that."
Barney Klein, who lives on Keech Avenue and was out tailgating Saturday, said the scene around the stadium seemed a little more toned down compared to the last Notre Dame game.
"It seems like two years ago for the first night game it was a little more rambunctious than this," he said. "But it's hard to say, because now that they're closing down Main Street, both the foot and the car traffic seems a little lighter here."
He added, "This is always a crazy game — Notre Dame — but nothing beats Michigan State. Every single time it is just out of control."
Diane Brown, spokeswoman for the U-M Department of Public Safety, said university police handled a lot of incidents on Saturday, but she didn't have a detailed report to share yet.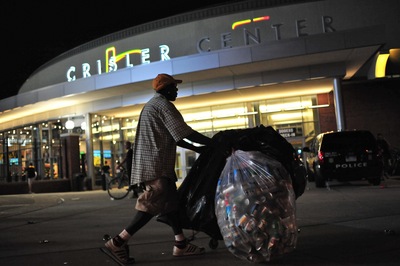 Ryan J. Stanton | AnnArbor.com
Jeff Kass, who drove in from the Detroit area for the game, proudly wore a "Rudy Blows!" shirt as he made his way into the stadium Saturday night.
"I'm hoping we send them out on a good note," he said, referencing the fact that Notre Dame won't be coming back to Ann Arbor for a while. "I think that's kind of weak, but what are you going to do?"
Large amounts of litter, including plastic bottles and cups, cluttered the sidewalks outside the stadium, but scavengers were out scooping up items of value.
Among them was Ann Arbor resident Bobby Wilson, who said he lives on government disability. He expected to make about $30 from cashing in the beer bottles and pop cans he collected.
"Basically just about everybody out here is on disability and just trying to get some pocket change," he said. "We're out here because we run out of money in the middle of the month, because we only get $700 for rent, food, transportation, clothes, whatever."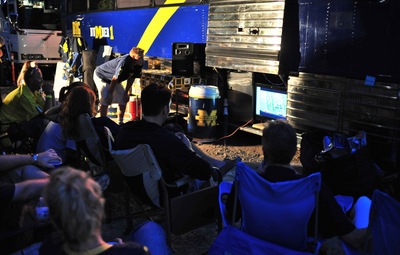 Ryan J. Stanton | AnnArbor.com
Main Street was once again closed to vehicle traffic and fans moved freely in and out of the street on foot before and during the game.
Chuck Fojtik, who was overseeing the city's traffic control operations on Saturday, said there weren't any major traffic issues before the game.
"I think it was pretty spread out," he said. "We started at 2 p.m. and there was a little bit of a backup onto the highway at I-94 and Ann Arbor-Saline Road, but once we started running the traffic lights and got everything going, it just kept going smooth from then on."
As the game got under way, Fojtik predicted it would be a late night.
"The last Notre Dame game, we didn't get out of here until 2:30 or 3 in the morning. We expect it to be that late again," he said.
Ann Arbor Police Sgt. Elizabeth Patten said just after the game ended before midnight Saturday that officers were busy, but there were no significant incidents to report.
"It's just been busy like usual football games, but maybe up a little bit," she said, adding there were citations for open intoxicants, minors in possession of alcohol and noise violations, but she didn't yet have numbers to report on citations issued.
Ryan J. Stanton covers government and politics for AnnArbor.com. Reach him at ryanstanton@annarbor.com or 734-623-2529. You also can follow him on Twitter or subscribe to AnnArbor.com's email newsletters.