Posted on
Sun, Nov 25, 2012 : 2:47 p.m.
Undercover Michigander's Columbus experience changes slightly after car is victimized
By Kyle Feldscher
I was ready to give Buckeye fans all the credit in the world for a good experience in Columbus this weekend.
I didn't get a speeding ticket, I didn't see anyone get in any physical confrontations with their Wolverine fan counterparts and most Michigan fans I spoke to said they actually had a good experience coming down to Ohio, despite the oppressive 65 miles-per-hour speed limit and cell phone coverage that reminds one of a third-world country.
Then I saw it. While giving my car the once over after returning to the Neil Avenue parking garage on Ohio State's campus after the game, I spotted a dent on the hood. This observation came literally seconds after I sent out a tweet stating the scene after the game was just as non-confrontational as the pregame festivities.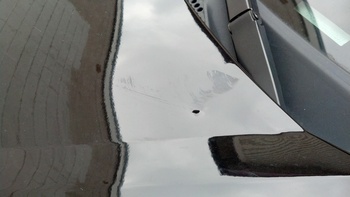 Kyle Feldscher | AnnArbor.com
My spirits were crushed. I can't be positive, but it looked like some overzealous Buckeye took a key and jabbed the hood of the car with all the adrenaline they could muster. Despite my Michigan State University gear sitting in the back window, I was still a victim.
And, it turns out, I'm not the only one.
I wasn't down on the field as the game ended, but my camera-wielding AnnArbor.com colleague Daniel Brenner told me some of the Ohio State students who rushed the field following the final whistle were intent on mixing it up with some of the Michigan players.
A lot of words I can't write in this column were thrown at those in maize and blue gear down on the field and, as I could see from the safety of the press box, there were some brave (read: drunk) souls in scarlet who actually tried to physically confront Taylor Lewan and J.T. Floyd as they left the field. It's never a good idea to confront a football player, even less so when they're in pads and helmets and were just beaten by their arch-rival. Luckily for those fans, Floyd and Lewan resisted the urge to take their frustrations out on those foolish souls.
Walking around the concourse of Ohio Stadium after the game, there was an almost active indifference to Michigan fans as they walked out. Only once did I hear some abrasive Buckeyes start lobbing F-bombs and other unpleasantries at Michigan fans, who surely just wanted to get home.
Other Michigan fans told me they had a slightly less pleasant experience. Adam White sent me a tweet just after 5 p.m. Saturday saying he watched a man in Buckeyes gear "lower a shoulder" into a woman in Michigan colors outside the stadium. Josh Rice said later on that night he'd never been called so many homosexual slurs in his life as he was Saturday (Warning: that link has some explicit language).
@kfeldscheraacom Not quite the same experience here. Saw a male Buckeye fan lower a shoulder on a female in maize & blue. Classless

— Adam White (@Adam6713) November 24, 2012
Probably the most intense one-on-several heckling I saw came later on during the night — and had nothing to do with The Game.
I was at R Bar watching the end of the Notre Dame-University of Southern California game with a few friends and, as the Irish wrapped up the game and a berth in the BCS National Championship Game, the few Irish fans in the bar started to go nuts. One Buckeye fan, who probably doesn't remember doing this at all, refused to allow them a quiet moment of enjoyment.
"Sec-ond best! Sec-ond best!" he chanted, over and over. He was presumably referring to the fact he believes the 12-0 Buckeyes are a better team than the Irish and the fact the Buckeyes weren't going to be playing in the Big Ten Championship Game or a bowl game (because of the Tattoogate sanctions) and wouldn't be able to prove their dominance. To their credit, the Irish fans ignored him. That didn't mean he was going to stop.
As I left and headed back to the hotel, he was still heckling them about not playing in a conference championship game (the irony was apparently lost on him) and being second best to the Buckeyes, who spent most of the game Saturday actively trying to lose to the Wolverines.
It was the type of football intelligence I expected from Buckeyes fans after watching more than 105,000 of them give disgraced former coach Jim Tressel a standing ovation while he was carried off on the shoulders of his former players during the first quarter of Saturday's game.
I had been impressed. A lot of my friends and family literally feared for my life when I told them I was going down to Columbus this weekend. I rarely saw anyone in red get in the face of any Michigan fans and never worried about my own safety. While the dent on the car's hood was a disappointment, it wasn't exactly the end of the world.
But, it seems as if Columbus is just like anywhere else: Most everyone is fine but there are some idiots. Perhaps, at this point, the city's reputation is so poisoned among Michigan fans that most just stay away instead of taking the risk of attending the game.
Regardless, there's no feeling like going north and finally seeing that "Welcome to Pure Michigan" sign. And then pressing down on the gas pedal and going 80 with barely any fear of being punished.
There's no place like home.
Kyle Feldscher covers cops and courts for AnnArbor.com. He can be reached at kylefeldscher@annarbor.com or you can follow him on Twitter.