Posted on
Mon, Apr 16, 2012 : 2 p.m.
Journey to the bottom of the underground parking garage in Ann Arbor
By Ryan J. Stanton
Four stories down at the bottom of Ann Arbor's new underground parking garage, daylight from the world above splashes onto the concrete floor.
That's possible because of the architectural design of the main pedestrian staircase descending from Fifth Avenue.
And that's just one of the features of the $50 million project being financed by the Downtown Development Authority with parking fees and tax dollars.
Amy Sullivan, project manager for contractor Christman Co., took AnnArbor.com on a journey to the bottom of the parking garage on a recent afternoon.
Ann Arbor DDA officials are planning a July 12 party to celebrate the soon-to-be-completed garage on Fifth Avenue between Liberty and William streets.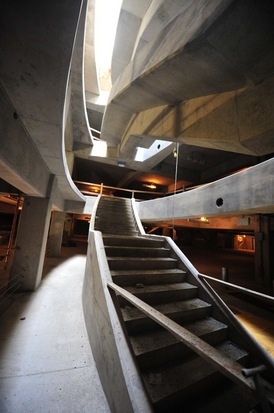 Ryan J. Stanton | AnnArbor.com
The event will serve as an unofficial kickoff to the
Rolling Sculpture Car Show
when more than 400 antique, classic and concept cars will be on display on Main Street.
In fact, each level of the new parking garage, extending four stories underground, will have its own classic car theme once a set of wayfinding signs is installed.
"They're actually very large signs," Sullivan said. "And of course every level will have that distinctive color system. So if you can figure out the color and the type of car you're looking for, you can find your spot on your way back to your car."
Landscaping work remains to be done and stainless steel railings and glass canopies still are in the process of being installed at ground level.
"It's going to be a fantastic parking structure from an aesthetic perspective," Sullivan said. "The concrete finishes are just fantastic on this project. I really couldn't ask for anything better."
Since the parking structure is underground and doesn't have ready access to outside air for ventilation like above-ground garages, a fan system is being installed to exhaust air from each level. A large air intake system is in place at the bottom level, and large exhaust fans are located at the north and south sides of the garage.
Masons were still blocking up the fan room on Level P1, the first floor below ground, on a recent afternoon.
Carbon monoxide detectors also are located at each level and tied into the system to increase the exhaust air if needed, Sullivan said.
There also is room at the bottom level of the structure for future office space. Sullivan said the original plan was to make an office for Republic Parking, but as a cost saving measure, the office fit-out will not be completed at this time.
"The lower level office space is a core and shell ready for a future office fit-out," she said. "Currently a portion of that space will house the IT operations for the parking structure."
DDA board member John Splitt gave an update on the project this month and said the goal is to re-open Fifth Avenue by the end of May and complete the project by the end of June or early July.
That comes as welcome news for both nearby businesses and the Ann Arbor Transportation Authority, which announced on Monday the expected re-opening of Fifth Avenue near the Blake Transit Center will allow the AATA to return 14 routes to their regular routing.
Details on the changes to each route will be available at www.TheRide.org.
Ryan J. Stanton covers government and politics for AnnArbor.com. Reach him at ryanstanton@annarbor.com or 734-623-2529. You also can follow him on Twitter or subscribe to AnnArbor.com's email newsletters.