Posted on
Mon, Apr 1, 2013 : 5:59 a.m.
Undeterred by declining applications, University of Michigan Law School keeps admissions practices same
By Kellie Woodhouse
While some law schools are choosing to cut their class sizes due to souring job prospects and declining applications, it's business as usual for the University of Michigan Law School.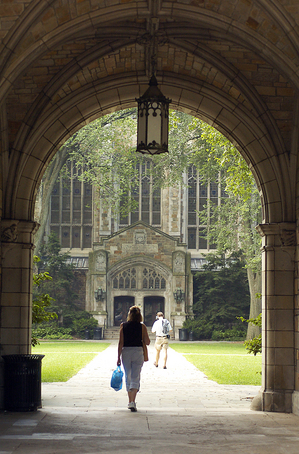 Applications into the school have decreased the past three years, although the downtrend is slowing. The decline isn't sparking a change in admissions practices, according to law school admissions director
Sarah Zearfoss
.
"We haven't had difficulty in getting students jobs. We don't feel that we have any need to cut the class size," she said in an interview.
Applications for the fall class are down 3 percent over applications for the fall 2012 class. That year, applications were down 7 percent, and for the fall 2011 class applications were down 10 percent.
The decline came on the heels of a 16-percent spike in applications in 2010.
During a typical year, the law school expects 5,500 applications. This year it received roughly 5,000, according to Zearfoss.
Nationally, applications to law schools this year are down 20 percent. Since 2010, applications have declined an estimated 38 percent.
During the past two decades, U-M's average class size has been 360 students. Recent class sizes, however, have fluctuated. Three years ago, the entering class size was 376. The next year it was 359 and most recently it was 344.
With law school applications down nationally, qualified applicants applying to top schools are achieving a higher rate of acceptance. Students who before might have chosen from three or four potential schools are now choosing from six or seven.
"We make roughly the same number of offers every year," Zearfoss said. "Last year was a slightly smaller yield, which was not our intent but not wholly unexpected by us."
Zearfoss said the school is expecting a somewhat smaller yield again this year.
Due to fewer applications and lower job placement rates, some law schools, including Northwestern University and George Washington University, are actively cutting class sizes.
"Northwestern has not faced the same level of decline (in applications) as other schools, nor have we suffered as greatly from the decline in legal positions as most other law schools," Northwestern law school Dean Daniel B. Rodriguez wrote in an email in early March. "We are not immune, however. And we are not going to ignore the ways in which the legal economy affects our alumni, current students, and prospective students."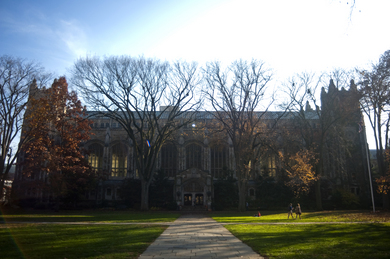 Joseph Tobianski | AnnArbor.com
U-M's law school doesn't plan to follow suit.
The school considers its decline in applicants modest, and figures show that recent graduates aren't having trouble finding employment.
U-M reports that 95 percent of its 2011 law graduates are employed. That's significantly higher than the national 55-percent employment rate for 2011 law graduates, as reported by The Wall Street Journal.
"If we were having trouble identifying enough people to make offers to that we thought are the caliber of students we want to see, we would make fewer offers. That's not the case. We're not having any difficulty," Zearfoss said.
Zearfoss said the school is monitoring trends closely.
"The last few years in legal economy has been full of surprises," she said. "We're going to keep our eye on it."
Kellie Woodhouse covers higher education for AnnArbor.com. Reach her at kelliewoodhouse@annarbor.com or 734-623-4602 and follow her on twitter.