Posted on
Tue, Nov 8, 2011 : 5:59 a.m.
U-M officials hope to see decline in uninsured students this year
By Kellie Woodhouse
Health Service Director Robert Winfield expects to see a decrease in uninsured University of Michigan students after the results of campuswide survey are in.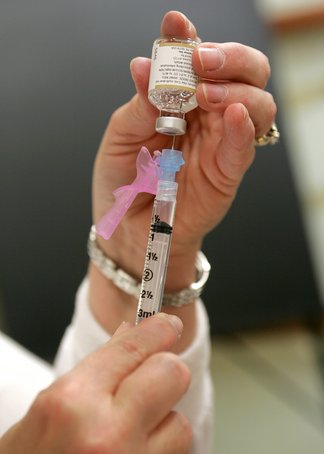 Grand Rapids Press
Why?
The Affordable Care Act has been in effect for a full year now.
College students at U-M and across the nation have been taking advantage of new law, which has allowed young adults under the age 26 to remain on their parents' health insurance plans since Sept. 23, 2010.
A recent report by the Centers for Disease Control and Prevention says that the number of uninsured people between 19 and 25 has decreased from 10 million in the first quarter of 2010 to 9.1 million this year. A recent Gallup poll confirms that about 4 percent of young adults between 18 and 25 have picked up insurance since the change.
"My prediction is that we're going to see a significant drop in the uninsured," Winfield said. "We will get a fairly good sense of the impact of the law."
The Health Service will distribute the survey to U-M students electronically by Nov. 23. About 25 percent of U-M's student body responds, Winfield said. Results are expected by early January.
Winfield said the act will likely have the largest effect on graduate students. Prior to the act, most health insurance providers allowed young adults in college to stay on their parents plan during their first four years of undergraduate studies.
In 2009, when the Health Service last conducted the survey, it found that 6.9 percent of undergraduates in were uninsured and 9.2 percent of graduate students were uninsured.
A 2005 survey concluded that 5.6 percent of undergraduates were uninsured and 10.5 percent of graduate student were uninsured.
Nationwide, young adults comprise a disproportionate amount of the uninsured.
That's primarily due to two reasons, Winfield said.
Reason one: perceived invincibility.
"Young adults think they're invincible and, in general, they don't have serious life health events, like cancer," Winfield said. "They're accustomed to being healthy and of course they don't think about having an accident or getting a lymphoma."
Reason two: Healthcare is expensive.
The university offers health insurance for students at a cost of $2,813 a year.
"If you're not employed ... it's a fairly substantial amount of money," Winfield said.
U-M student Christie Bieber is among the uninsured, but plans to go on her father's plan soon. Bieber graduated from U-M last year and is taking prerequisite courses at U-M as she applies to dental schools. She was on her father's insurance, but lost health care after her father got laid off almost a year ago.
Last month, however, her father found a job in Canton, and Bieber plans to once again affiliate with his health insurance plan. Bieber says that without the new provision, she'd likely be without health insurance throughout dental school because she can't afford the high cost of a plan not subsidized by an employer.
"These days people are in school for so long and it just consumes so much of our time and energy, so it's just good to know you can still be helped out," she said.
Sidney Kelpin, a junior neuroscience major at U-M, also plans to go to dental school after graduation. During that time, she'll remain on her parents plan, she said.
"It's just one less thing that I have to worry about," she said. "To have to pay for my own schooling at grad school and have to deal with health insurance ... is a lot."
Without the provision, Keplin said she would have to add the cost of a school-provided insurance plan to her loans, further inflating her debt.
Laurie Burchett, U-M student insurance manager, said the Health Service is already seeing the effects of the policy change.
Fewer students are signing up for U-M's plan because they're staying on their parents' plans.
In 2010, the first year the change went into effect, 1,554 students took advantage of U-M's insurance plan. That's 80 students fewer than the year before.
And this year shows further change.
By Sept. 30, 2010, 1,233 students had signed up for U-M insurance. By that time this year, 1,064 students had signed up. That's a 169-person difference.
However, uninsured students remain an issue.
"We do see a lot of students in our office every day who have medical bills and need medical assistance and don't have any insurance," Burchett said.
But the extent of the issue —and whether it's decreasing with national trends— remains to be seen.
Kellie Woodhouse covers higher education for AnnArbor.com. Reach her at kelliewoodhouse@annarbor.com or 734-623-4602 and follow her on twitter.