Posted on
Sun, Jan 13, 2013 : 12:57 p.m.
Union calls on former Ann Arbor police chief Barnett Jones to resign from Detroit Water department
By Sven Gustafson
The union representing security officers at the Detroit Water and Sewerage Department is urging Barnett Jones to resign after the Detroit Free Press revealed that the security chief and former Ann Arbor police chief was holding two six-figure jobs simultaneously.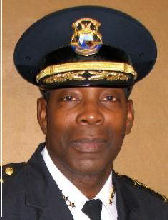 Jones on Thursday
resigned from his position as administrator of public safety in Flint
. The Free Press last week reported that Jones was working that job at the same time he was holding down the full-time position in Detroit, earning a combined $273,750.
Flint officials said they were unaware that Jones was also working as chief of security for the Detroit water department.
"When he was hired in, they changed the name to the department of security and integrity because they wanted to set a new tone," Michael Mulholland, vice president of AFSCME Local 27, told the Freep. "If that irony alone isn't enough to fire him, I don't know what is."
Sue McCormick, the director of Detroit Water and Sewerage Department who previously served as public services administrator for Ann Arbor, said she's standing by Jones despite the controversy. She said Jones had told her about his job in Flint, but she believed it was part time.
Most of the water department's security officers are paid $13.45 an hour after a recent 10-percent pay cut and are being asked for further concessions to save money, Mulholland said.
Jones came to his home town of Ann Arbor to serve as police chief in 2006 and resigned last February in what he then billed as his retirement. He was eligible for a pension from the city.
Jones was appointed to Flint's top police job in April by the city's then-emergency manager, Michael Brown, who now says the city will investigate records to shed light on Jones' schedule in city hall.
"All I can say right now is, he was there (at work) and engaged and I think he was working 40 hours at two jobs," Brown told MLive. "I guess you could say burning the candle at both ends."
For the latest, read the Freep story.