Posted on
Sat, Mar 23, 2013 : 2:41 p.m.
Matthaei Botanical Garden's voodoo lily to bloom by Monday
By Lisa Carolin
Visitors to Matthaei Botanical Gardens in the next few days may get a very unpleasant scent accompanied by a beautifully unique-looking plant. The voodoo lily is about to bloom, and when it does, it gives off the smell of rotting flesh. It is located in the temperate house of the gardens' conservatory.
"It has bloomed here before and really caused quite a stir," said Joe Mooney, who does marketing and communications for Matthaei Botanical Gardens.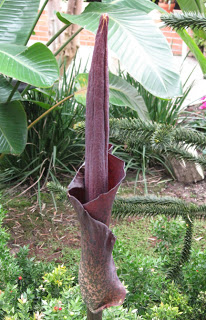 Courtesy photo
Mooney says the temperature impacts when the voodoo lily blooms.
"It should open its flower between now and Monday," he said. "It has the most amazing smell and is an incredibly beautiful flower with a deep purple robe wrapped around it."
Mooney added that the smell and the bloom last for two to three days.
As of Saturday afternoon, Matthaei's events planner Heather Hunter says, "It's just starting to unfurl a little bit."
She says that anytime people hear about a unique plant at the gardens, it is a draw.
The voodoo lily is a perennial plant with the scientific name Amorphophallus konjac. It grows from a bulb-like structure called a corm. The chemicals the flower gives off, which are called putrescine and cadaverine, attract pollinators such as flies.
The plant is native to warm subtropical climates and is found in Japan, Korea, and parts of China south to Indonesia. Konnyaku, also known as yam cake, is a food made from the root of the voodoo lily, and its corms are used to create flour and jelly as well as being used as a vegan substitute for gelatin.
For an update on the progress of the Matthaei Botanical Gardens voodoo lily, go to the garden's Facebook page.