Posted on
Mon, Aug 13, 2012 : 6:13 a.m.
Annual UA training at WCC brings 2,200 visitors and $5M into Ann Arbor area
By Janet Miller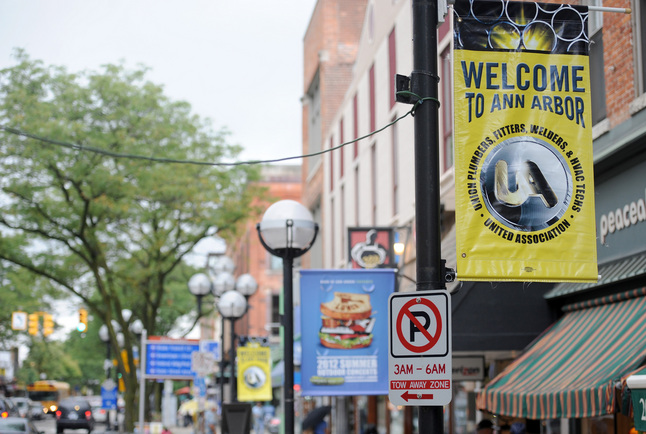 Angela Cesere | AnnArbor.com
While there is no expensive art and no bare-chested men painted maize and blue, the United Association packs a wallop when it comes to fueling the local economy.
The United Association of Journeymen and Apprentices of the Plumbing and Pipe Fitting Industry (UA) brings about 2,200 visitors and $5 million into Washtenaw County each August as its members and instructors gather for a week of training held on the campus of Washtenaw Community College.
They fill Washtenaw County hotels and at night spill into area restaurants and bars, T-shirt shops and retail stores. They rent cars, fill their tanks and even visit the dentist.
While the Ann Arbor Art Fair and the University of Michigan football games are higher profile tourism magnets, for 23 years the UA has saved the sluggish month of August from being a bust for hoteliers, restaurant owners and retailers.
"They make August wonderful," said John Staples, general manager of Weber's Inn. "Before the UA came, August was a struggle."
It's one of the largest groups to visit Ann Arbor, said Mary Kerr, Ann Arbor Area Convention and Visitors Bureau president and CEO. "It has a huge impact, not only on hospitality but also by bringing national visibility to Washtenaw County."
The CVB erects welcoming banners around Ann Arbor and Ypsilanti downtowns, distributes welcome buttons to hospitality staff around the county and supports a 24-hour hotline to help UA visitors find rooms, restaurants, even on-call dentists.
The UA also fills up WCC during an otherwise quiet time, taking over the entire campus. Many local companies outside the hospitality industry also benefit, including special equipment suppliers, rental companies and food service vendors, said Janet Hawkins, associate director of public affairs at the college.
Weber's Inn blocked off most of its room for the UA between Aug. 11-17, Staples said. Countywide, UA members book close to 2,000 rooms each night.
"They fill virtually every hotel room in Washtenaw County for a week," Staples said. "If we had a thousand more rooms, we could sell a thousand more rooms to the plumbers. It a tough week to get a hotel room."
Since they started visiting in 1990, UA members have booked 201,000 room nights countywide, Staples said.
The art fairs usually don't fill all of Ann Arbor hotel rooms, Staples said. Because the plumbers are in town for a full week compared to the four days for the art fairs, the plumbers generate more revenue for Weber's than the artists and art lovers, he said. And the plumbers spend more in the restaurant and lounge than the art fair crowd.
For the week they are in town, the plumbers account for half the traffic at Conor O'Neill's Pub in downtown Ann Arbor.
"We have a lot of repeat customers, regulars, if that can be said of someone who comes once a year but every year," said Caroline Kaganov, general manager.
The pub's Monday Trivia Night is cancelled to make way for the plumbers, but the menu remains the same. "The UA's demographic is different from art fair. There's lots of guys who buy burgers and steak and beer," Kaganov said. "Our menu appeals to the plumbers and pipe fitters. If we were selling sushi, perhaps we'd need to change our menu."
The UA's reach goes beyond the week. They helped pave the way for the National Joint Apprenticeship and Training Committee of the National Electrical Contractors Association and the International Brotherhood of Electrical Workers to hold their weeklong training program in Ann Arbor at the end of July and early August since 2009. They also helped bring the Iron Workers to Ann Arbor beginning in 2010, holding a much smaller training program during art fairs.
While not as crowded as the art fairs or as raucous as a football game, the UA has found ways to weave itself into the community.
One is the Community Block Party scheduled for Monday night blocks off a portion of Main Street in downtown Ann Arbor to make way for hot rod, classic and muscle cars along with live music and outdoor dining. The block party runs from 6-10 p.m. on South Main Street between William and Huron.
New this year is a 5K run and Fun Run Pub Crawl that will be held Monday night and benefits the Semper Fi Fund, a non-profit that provides medical care and financial help to servicemen and women wounded in Afghanistan and Iraq. Retired Major General Matt Caulfield and Retired Colonel Nick Marano will come to Ann Arbor to start the race.
Business owners aren't the only ones happy to see the UA come to town. Wait staffs and other service workers also look forward to the visit, Staples said.
"The UA members are generous tippers."