Posted on
Sun, Oct 23, 2011 : 3 p.m.
United Way of Washtenaw County sets $5.75M fundraising goal to meet increasing need
By Julie Baker
As nonprofits across the county see more need for their services, the United Way of Washtenaw County says this year's $5.75 million fundraising campaign is increasingly important.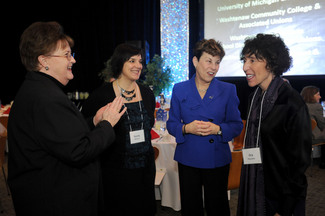 Angela J. Cesere | AnnArbor.com
The UWWC's fundraising goal this year is $260,000 more than in 2010, although President
Sandy Rupp
said that's still near the minimum amount needed to maintain essential services in the county. This year's campaign kicked off last month.
"It's not like we're being bold," she said, adding that UWWC was on its way to raising $8 million to $10 million per campaign before the economic downturn began. "We need to let the community know that if we don't support a critical service, it could go away. We don't want that to happen."
Rupp said that many of the grants given to the UWWC partner agencies are the lifeblood of the organizations. Partner agencies include food pantries, family service organizations and senior programs.
"Many of the people who used to be our donors now are needing assistance," she said. "A new person that needs help often has a really hard time asking for it."
According to UWWC data, 12 percent of the county's population is living below the poverty line.
The median household income for Washtenaw County dropped an inflation-adjusted 9.1 percent from 2006 to 2010, according to 2010 Census interviews. Cuts to Michigan's welfare program also are expected to increase need.
Rupp said the UWWC's fundraising campaign is off to a good start. About a dozen companies that already kicked off their campaigns have set a good pace, and they're showing strong support so far.
"Rather large companies that are our bread and butter are what we are counting on so far," Rupp said. "But the truth is, we really need to have everybody give whatever they can."
For more information on the UWWC, visit www.uwwastenaw.org.