Posted on
Thu, Jan 17, 2013 : 9:35 a.m.
U-M, EMU plan MLK Day celebrations in honor of 50th anniversary of historic 'I Have a Dream' speech
By Kellie Woodhouse
This year marks the 50th anniversary of the historic "I Have a Dream" speech — and local universities are planning to honor that milestone during events surrounding the upcoming Martin Luther King Jr. Day.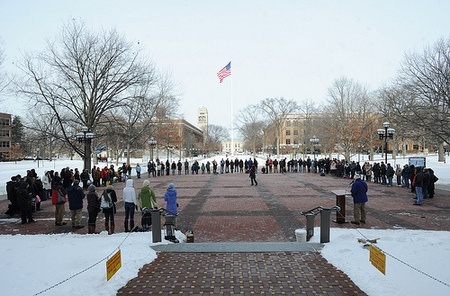 The holiday takes place on Monday, Jan. 21, and honors its namesake Martin Luther King Jr. This year, celebrations of America's iconic civil rights activist are intensified due to the 50th anniversary of his historic 17-minute speech in which the reverend called for an end to racism.
University of Michigan is hosting its 27th annual Martin Luther King Jr. Symposium throughout the month. The symposium will be keynoted by Morris Dees, co-founder and chief trial counsel of the Southern Poverty Law Center, who will speak at 10 a.m. Monday at Hill Auditorium.
King speechwriter Clarence B. Jones will also speak during the symposium, discussing the development of the "I Have a Dream" speech at 6 p.m. Monday in the Stephen M. Ross School of Business Blau Auditorium.
Civil rights activist and educator Angela Davis will give a lecture titled "Impediments to the Dream: The Prison Industrial Complex and the Dream" from 2 to 4 p.m. Monday in the Michigan Union Rogel Ballroom.
At 11:30 a.m. Monday there will be a rally on the U-M diag in support of a November appellate court ruling that struck down Michigan's Proposal 2, which banned the use of affirmative action in college admissions. The rally will begin at the corner of South University and South Forest avenues, and move to the Diag.
Leading up to the holiday, university students are encouraged to visit the Sweetland Center for Writing's website and submit essays about how King's speech has impacted their lives. The U-M South Asian Awareness Network also is hosting a multi-day social justice conference.
The events take place during a semester-long "Understanding Race" project, which includes lectures, art exhibits, performances and panel discussions.
The College of Literature, Science and Arts is offering courses crafted for the race-centric theme. As a part of the project, National Public Radio personality Michele Norris will bring her Race Card Project to Ann Arbor later in the semester, asking participants to submit a six word statement about race on post cards or the Web. In April she will visit U-M's campus.
Meanwhile, Eastern Michigan University is having Tim Wise, an anti-racism author and educator, keynote its MLK day events with a lecture scheduled for 10 a.m. Monday at the student center auditorium.
There also will be academic programs and student performances from 2 until 6 p.m. in the student center. During a luncheon, EMU will announce the winners of a school-sponored humanitarian award and the Evans Strand Scholarship, both of which go to students who display value for civil rights.
EMU students are planning a campus-wide march beginning at 6 p.m. outside the student center. The following day, Tuesday, Jan. 22, EMU is offering a panel discussion and free screening of "Detropia" at 6:30 p.m. in the student center auditorium.
Prior to MLK day, EMU is inviting students to participate in a service day and lock-in.
Kellie Woodhouse covers higher education for AnnArbor.com. Reach her at kelliewoodhouse@annarbor.com or 734-623-4602 and follow her on twitter.