Posted on
Fri, Apr 30, 2010 : 11:20 p.m.
University of Michigan, city prepare for President Barack Obama's arrival
By Erica Hobbs
The streets of Ann Arbor were busy but happy Friday evening as students, parents and community members were out preparing for the University of Michigan's commencement ceremony Saturday.
While graduating students - some already in caps and gowns - took to local restaurants to celebrate their accomplishments with parents and friends, U-M officials were busy getting ready for President Barack Obama's arrival as the ceremony's keynote speaker.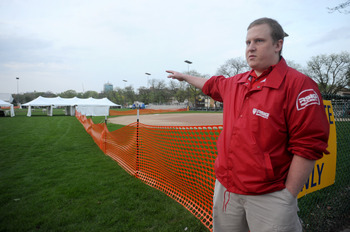 Jenny Freels, senior events manager for U-M's Office of University and Development Events, said she had been at Michigan Stadium since 7:30 a.m. preparing for the ceremony.
"We're just ready for it to happen," she said.
Freels said much of her day was spent running sound checks and rehearsals for those participating in the event, which this year includes several student performance groups meant to entertain the crowd before the ceremony.
"There's a wide variety of things so people aren't too antsy while they wait," she said.
With such a high profile speaker, graduation attendees are expected to be seated two hours before the ceremony's 11 a.m. start time to go through extra security measures.
Starting at 6:30 a.m. with a deejay, Saturday's line-up includes a jazz ensemble, dancers, the Michigan Gospel Chorale and performances from musical theater students.
"We're giving them entertainment," Freels said.
A short distance down the road, security guard David Jordan with RSIG Security was holding down the fort at Elbel Field, which has been off-limits since Wednesday in preparation for graduation day.
"We're just making sure no one comes in the station and tries to steal some free food," Jordan said.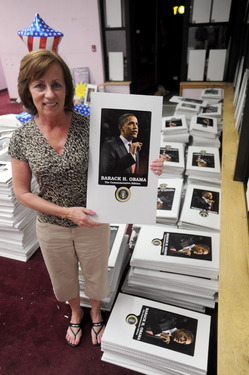 Angela J. Cesere | AnnArbor.com
Covered in tents, risers and portable toilets, the field was ready to host this year's graduates before the ceremony, with breakfast and photo stations starting at 6 a.m.
Starting at midnight, Main Street between Pauline and Stadium boulevards will be completely shut down, and all parking lots south of Hoover Street near Michigan Stadium will be closed until 2 p.m. Saturday.
Along with U-M officials, local businesses and vendors were also busy preparing for Obama's visit.
The Michigan Theater's banner read "Welcome to Ann Arbor President Obama," while area vendors began selling commencement T-shirts on street corners featuring Obama's picture.
Diane Angelosante, owner of Select Graphics printing company in Warren, even rented out an empty space at 704 Main Street to sell commemorative Barack Obama books.
The books, originally made to commemorate Obama's inauguration, are full-color collections of posters, newspaper articles and poems relating to and featuring Obama's presidential election.
Angelosante said she arrived at 3 p.m. to begin setting up and plans to return to the store at 3 a.m. tomorrow to start selling as soon as possible. She has about 1,600 available, which she plans to sell for $30 each.
"It's been a rough couple weeks but I'm hoping (to sell them)," she said. "I'm hoping for no rain."
Erica Hobbs is a reporter for AnnArbor.com. Reach her at 734-623-2537 or via e-mail at ericahobbs@annarbor.com.