Posted on
Thu, Nov 10, 2011 : 5:57 a.m.
1,000 Pitches? Triple that. University of Michigan entrepreneurship contest wants record numbers
By Kellie Woodhouse
The student leaders of University of Michigan's legendary 1,000 Pitches entrepreneurship contest have an ambitious idea of their own: to top last year's pitch total of 3,031.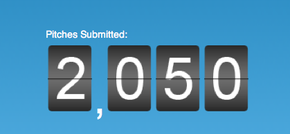 That's more than triple the contest's original goal.
The 1,000 Pitches contest began in 2008 as student-sponsered initiative to "create the entrepreneurial spirit of change and innovation at Michigan," according to project co-director Najia Yarkhan.
"There's so much potential," the U-M sophomore said. "It's here, but it could be much stronger."
Student submit three-minute videos with entrepreneurial business pitches and the top pitches in nine categories receive $1,000 to help get their ideas off the ground. Winners also get to tour the Google and Quicken Loans offices in Ann Arbor.
That first year, the contest garnered 1,044 submissions. A year later, in 2009, it had grown to 2,165 submissions.
"Last year we had over 3,000 pitches, and this year we're trying to increase that number," said U-M sophomore Lisa Pederson, who helps with 1,000 Pitches. "Each year we increase our pitches by about 1,000."
Now, the question is exactly how much can the 1,000 Pitches team push the envelope and grow the competition this year.
Can they get to 4,000?
"That's a tough question," said Thomas Madigan, a U-M junior who has worked with the project for three years. "We have a couple tricks up our sleeve."
Last weekend, 1,000 Pitches pulled out one of those tricks and got more than 400 submissions in one evening. They setup "study break" tables throughout campus and enticed students with Insomnia Cookies, gathered all the way from East Lansing. Students could use laptops at the tables and create a brief, informal video outlining a pitch and get free cookies in return.
As of midnight Wednesday, submissions are at 2,104. Students have another ten days to submit ideas.
Plus, the 1,000 Pitches team still has a few tricks up their sleeve.
"There's a chance, there's always a chance," Yarkhan said of reaching 4,000 submissions. 4,000 pitches would mean that roughly 10 percent of U-M's student body was participating in the contest.
But Yarkhan says 4,000 pitches isn't the project's goal this year. The goal is to further increase the quality of contest by creating more buzz around winning. That's why this year MPowered Entrepreneurship, which runs 1,000 Pitches, added the Google and Quicken Loan offices tours. They're also creating a summit where winners can mingle with the event's sponsors —which include Ann Arbor's SPARK, Bizdom, Google, Quicken Loans, Mobiata, Pure Michigan, Energy Stage Partners, Menlo Innovations and several others local businesses.
"It will be more than just an awards ceremony," Yarkhan said.
Madigan said the 1,000 Pitches contest has grown tremendously since it first began in 2008.
"When it first started, there was a huge push to just get 1,000," Madigan said. "There were 20 to 30 people running it, and now we're close to 100. So not only has the competition grown, but the organization has grown."
Kellie Woodhouse covers higher education for AnnArbor.com. Reach her at kelliewoodhouse@annarbor.com or 734-623-4602 and follow her on twitter.