Posted on
Fri, Oct 26, 2012 : 1:31 p.m.
University of Michigan admissions director talks about dos-and-don'ts of applying to college on Today Show
By Kellie Woodhouse
Visit NBCNews.com for breaking news, world news, and news about the economy
If you watched The Today Show Friday morning, you might have heard a familiar theme: the University of Michigan fight song.
Undergraduate admissions director Ted Spencer was on the morning program at around 8:36 a.m., talking about the dos-and-don'ts of the college application process with fellow admissions officials from Johns Hopkins University and Vanderbilt University.
U-M's early application decision deadline is Nov. 1, compared to Feb. 1, 2013 for typical applications.
When show host Savannah Guthrie asked about the importance of SAT and ACT scores in an application, Spencer responded: "It complements the transcript. In other words, it is a part of the whole many factors that we look at."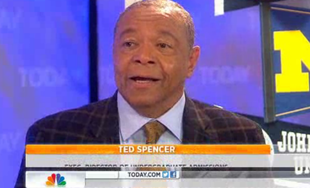 Guthrie also asked about over-involvement in extracurricular activities, to which Spencer said: "It's the persistence, it's the passion, its the leadership, it's the reasons why they're joining that's more important than the laundry list."
Spencer said that over-eager parents have not only tried to write their child's application, but sometimes the parents even sign it themselves.
Here are a few excerpts from the show:
Guthrie: Can you tell when [an essay] has been over-edited and adults have even written it?

Spencer: It feels a little bit more packaged. It's not about the student so much when someone else is writing it; we don't hear their voice, we don't understand what makes them tick, and that's what we're looking for.

Guthrie: Can you forgive something that's a little less than polished if you feel that it's authentic?

Spencer: I think you can... it's an individual review. You look at everything and you say, 'Where does this fit in the whole package of the application?'
And...
Guthrie: Tammy from Virginia wants to know 'How would you feel about a candidate submitting a home video of themselves with their application?'

Spencer: We had a situation like that at the University of Michigan last year. We admitted this wonderful person who submitted a home video about why he wanted to come to Michigan. He used the Michael Jackson thing 'Give Me One More Chance.'

He got in, but let me just say this: We receive tons of things like that every year. We don't admit people based on those kinds of things. If you stand out, if it really makes a difference, it may be considered. Most cases it doesn't matter.
Spencer recently spoke to AnnArbor.com about a record-year for enrollment at the Ann Arbor school and an increasing number of out-of-state students enrolling in the freshman class.
Kellie Woodhouse covers higher education for AnnArbor.com. Reach her at kelliewoodhouse@annarbor.com or 734-623-4602 and follow her on twitter.