University of Michigan alums to wear school gear in honor of Oklahoma boy
Posted on Fri, Aug 24, 2012 : 2:59 p.m.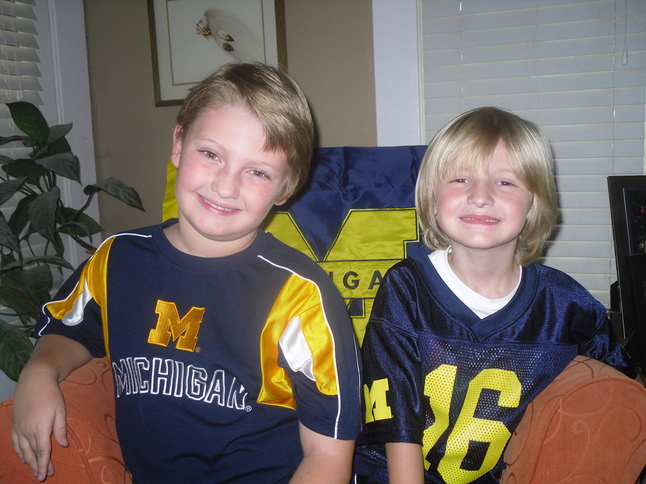 Correction: University of Michigan Alumni Association is encouraging people to wear their Michigan gear on Friday, Aug. 31. An earlier version of this story stated that supporters were encouraged to wear their shirts inside out.
The University of Michigan Alumni Association is asking graduates to wear their school gear in a tribute to Cooper Barton, a 5-year-old who was chastised by his Oklahoma elementary school for wearing a Wolverines T-shirt.
A school official made Cooper turn the shirt inside out because it violated a city ordinance banning apparel supportive of a team that's not from Oklahoma.
The parents say the reprimand embarrassed their child.
"The kids were out on the playground," Chris Barton, Cooper's father, told AnnArbor.com. "They made him go behind a tree and change it."
Since the incident flared up in national media earlier this week, Cooper has received the promise of new Michigan apparel —with the school logo on both sides of the fabric,— free football tickets and an all-expenses-paid trip to a the University of Massachusetts game at the Big House on Sept. 15. He even received a personal call from U-M Athletic Director Dave Brandon.
"It's awesome," Barton said. "Cooper's little mishap at his school is turning into a positive thing."
"The support from Michigan has been overwhelming," Barton continued, adding that his son has been "blown away" by his instant national fame. "He is a true Michigan fan. Of course we raised him that way."
Now, the school's alumni association, the mouthpiece for an estimated 500,000 living Wolverine alumni, is calling graduates and supporters to wear their Michigan gear on Friday, Aug. 31.
"We've heard from a lot of our alumni about Cooper's story and thought it was a good opportunity for them to show their Michigan pride," said Brad Whitehouse, of the alumni association.
Earlier this week, Brandon called the Oklahoma ordinance "a bunch of crap," and said he hopes Michigan's outreach to the young boy will bring about change.
"Maybe the recognition of this will get them to re-think their kind of crazy rule in Oklahoma," he said.
The alumni association is also encouraging people to make a donation, in honor of Cooper, to its scholarship fund.