Posted on
Mon, Feb 4, 2013 : 5:58 a.m.
Multimillion dollar bike-sharing program planned for University of Michigan and downtown Ann Arbor
By Kellie Woodhouse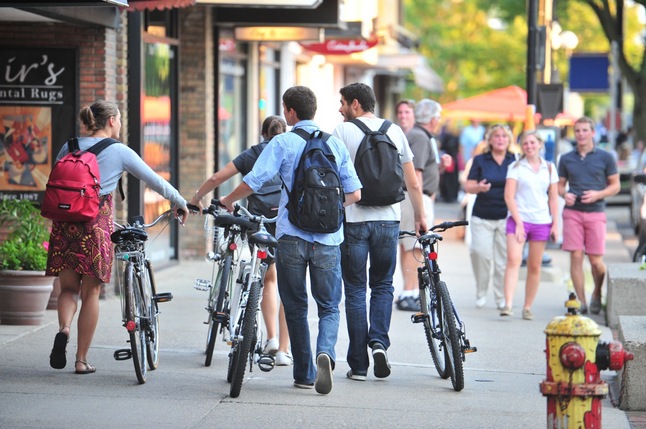 Ryan J. Stanton | AnnArbor.com file photo
The Ann Arbor-based Clean Energy Coalition is developing a bike-sharing program throughout the city, including on University of Michigan's sprawling campus near downtown.
Organizers say the program, which could begin as soon as fall 2013, meets a desire of both the university and the city to have a program in place that allows students, residents and commuters to check out bicycles as they would a Redbox DVD.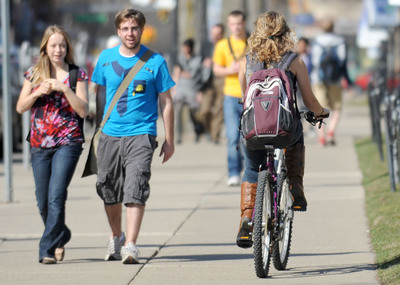 Angela J. Cesere | AnnArbor.com file photo
Participants will be able to obtain a bicycle at one kiosk and return it at another rack miles away, as long as the kiosk is within the bike share system.
With most bicycle share programs, anyone with a credit card can participate and members often receive an incentive, such as the first half-hour of rental free.
"For it to be really successful, it has to be something that connects the campus and downtown," said Stephen Dolen, director of parking and transportation services at U-M, which has been exploring a bicycle sharing program for years.
In essence, the bicycles would make easier and quicker for downtown residents to commute to work and for students to venture off campus. The bikes would be especially helpful to commuters who ride the bus to work, but aren't dropped off near their office, organizers say.
Eli Cooper, the city's transportation manager, said the program will cost between $1.8 million and $2 million to launch and operate for its first three years. The capital cost of the program could reach $700,000 and operating costs are expected to reach $350,000 annually.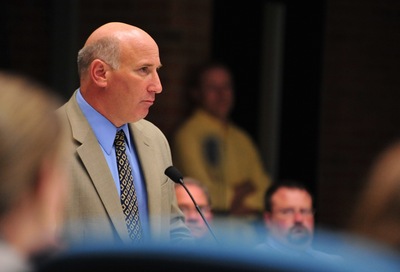 Ryan J. Stanton | AnnArbor.com file photo
Participating partners, including the city, the Downtown Development Authority and U-M, are expected to contribute financially. The program will earn additional revenue through membership fees and advertising.
The Ann Arbor Transportation Authority is facilitating the proposed program, which allowed the CEC to obtain a $600,000 federal grant to assist with funding. The grant must be complemented by a 20 percent local capital match, according to CEC officials.
The AATA and DDA boards will have to vote on the authority's financial involvement prior to its participation in the program. City council would also vote to approve the measure, since their financial commitment would be over $25,000.
Officials still are working to establish an exact formula for funding.
"We have not gotten to a final agreed set of terms and conditions," said Cooper, who compared the program with a new business venture. "There remains a number of outstanding questions."
Cooper said AATA's financial burden for the program has fluctuated throughout the planning process. At first, he said, CEC proposed that AATA pay $30,000 a year toward the program for three years. Then, CEC suggested the AATA instead pay a six-figure sum upfront.
AATA and CEC still are discussing AATA's financial participation, which could delay the city's involvement in the program.
"Clean Energy Coalition is now developing agreements for each of the partners, but no agreements have been officially executed as of this date," CEC mobility division manager Matt Sandstrom wrote in an email, adding that "the program is still in its infancy."
Other regulatory aspects, such as signage, also could contribute to a delay in city involvement.
That's why officials have discussed launching the bike sharing program on U-M's campus, and then gradually spreading it throughout the city. Dolen said U-M would like to launch the program in the fall.
Whether the program launches incrementally or all at once, Cooper is confident bike sharing will come to Ann Arbor.
"It just makes sense. It's available, it's relatively low cost, it's a sustainable, green mode of transportation," he said.
The user-friendly system will likely mirror popular bicycle sharing programs in other cities, including heavily trafficked systems in Denver and Portland.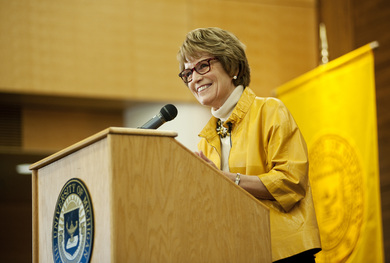 Daniel Brenner | AnnArbor.com file photo
In fall 2012, U-M President Mary Sue Coleman recalled what sparked her interest in bicycle sharing. She visited the University of Denver and saw the sharing program the university and city had in place there, which includes more than 500 bicycles and 50 kiosks.
"The bicycles were everywhere," she recalled. "I took photos of all these bike kiosks, came back and said we should do this."
In 2011, bicyclists using the Denver program logged more than 430,000 miles and averaged 750 checkouts a day.
Both the city and U-M's campus have been recognized as bicycle-friendly entities. U-M recently launched a bicycle rental program and installed a series of bicycle repair stations on campus. The school also has increased its bicycle parking. Meanwhile, the city has added roughly 20 miles of bicycle lanes to its infrastructure in the past five years.
The League of American Bicyclists has named U-M one of the 35 most bicycle-friendly universities in the country and Bicycling.com has named the city among the country's top 50 most bicycle-friendly towns.
Kellie Woodhouse covers higher education for AnnArbor.com. Reach her at kelliewoodhouse@annarbor.com or 734-623-4602 and follow her on twitter.