Posted on
Wed, Jul 10, 2013 : 4:30 p.m.
University of Michigan Athletic Department launches web page to encourage 'green' sustainability
By Chelsea Hoedl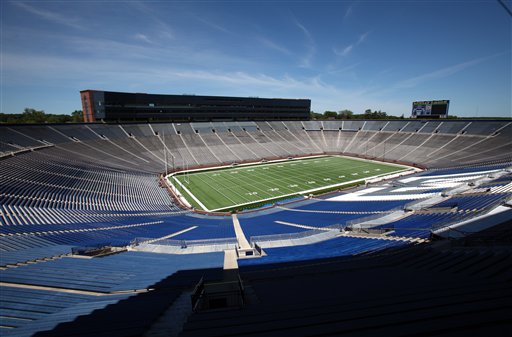 The University of Michigan Athletic Department is continuing its efforts to engage in environmentally friendly practices with the launch of its new sustainability web page.
The page, launched on June 14, details the department's strategy for reducing environmental impact and becoming more sustainable.
Fans are now able to read about the athletic department's sustainability mission, learn what it means to "Live Planet Blue" and navigate through the department's game plan for each of its four areas of focus; waste reduction and recycling, energy efficiency and sustainable building infrastructure, water conservation, chemical usage and sustainable cleaning practices and education and awareness.
"Launching this web page aligns with one of our key drivers, which is education and awareness," said Paul Dunlop, U-M athletics building facilities manager. "We wanted to draw people's attention to the fact that a lot goes on behind the scenes and teach them not only about what we're doing, but also about what they can do as fans, staff or students to be more sustainable."
The Michigan Athletic Department in collaboration with the University's Office of Campus Sustainability and the Michigan Student Athletes for Sustainability created a committee in fall 2012 to develop a sustainability plan for the athletic department in-line with the guidelines set by Planet Blue.
"Our plan brings attention to the campuswide sustainability efforts," Dunlop said. "The University of Michigan does a lot in that area. It's a high priority for the university and people see what the athletic department does so we can help to push their sustainability efforts forward."
Dunlop said fans can expect to see more focus on sustainability in the future.
"I can't tell you how it will translate in to game day experience," Dunlop said. "But fans will see more signage and they might notice our back of house composting, which is a big step. A lot of what we're doing won't be visible, like making sure buildings are energy efficient and chemicals are used in environmentally friendly ways."
The athletic department is taking a broad approach to becoming a more environmentally conscious and sustainable member of the university community, Dunlop said.
"There isn't one particular big push," Dunlop said. "We're focusing equally on each area because they're all important. It's a lot to take on and we have a lot of work to do, but we're excited about these first steps in the process."
Chelsea Hoedl is an intern reporter for AnnArbor.com. She can be reached at choedl@mlive.com.