Posted on
Sat, Jan 19, 2013 : 5:59 a.m.
Martin Luther King Jr.'s 1962 visit to University of Michigan
By Kellie Woodhouse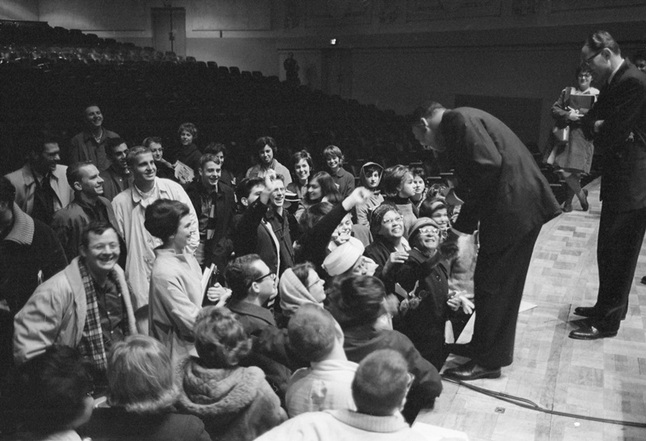 University of Michigan Bentley Historical Library.
On Monday, civil rights activists will gather in the
University of Michigan
's Hill Auditorium to
pay tribute to one of America
's most famous civil rights activists, Dr. Martin Luther King Jr.
About 50 years ago, on Nov. 5, 1962, the man himself stood on that stage and also championed civil rights.
The visit, which was forgotten for a number of years, was rediscovered in spring 2012 when a librarian found photographs of King giving a talk at Hill Auditorium. The negatives were a part of U-M Bentley Historical Library's News and Information Services collection.
"We had stumbled across those years ago and had kind of forgotten about them," said Karen Lee Jania, an archivist at Bentley. "They had been in a box and people just kind of forgot about it."
As U-M celebrates the 50th anniversary year of King's 'I Have a Dream' speech, AnnArbor.com is highlighting five photos of King's visit to Ann Arbor, which occurred about 10 months before King's historic speech.
All photos are courtesy of U-M's Bentley Historical Library.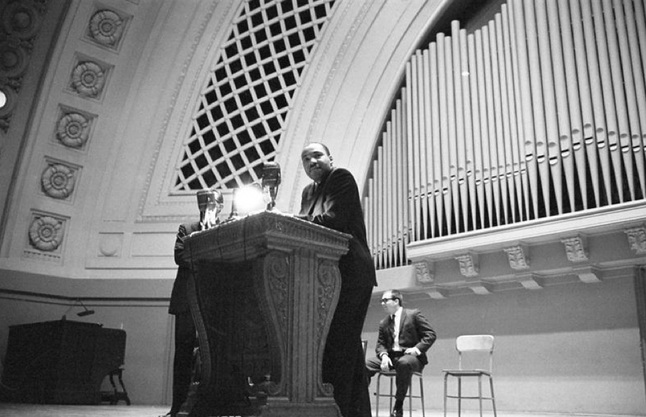 University of Michigan Bentley Historical Library
In this image, King gives a lecture at Hill Auditorium.
Records indicate that King gave two talks during his brief visit to the university. In a 2012 Michigan Daily article, former U-M President James Duderstadt said King's visit sparked controversy at U-M.
"There apparently was a controversy because in his speech, King suggested the importance of civil disobedience, and I guess a couple of the (university) regents raised concerns about that," Duderstadt told the Daily. "It was almost exactly 50 years ago, and it was a time when Martin Luther King was a pretty controversial person. The FBI was tracking him and so forth."
Later, in the late-1960s, the Board of Regents would pass a resolution memorializing King, who was assassinated in April 1968.
"The university was stunned by the death of Dr. King," read regents' meeting minutes from April 1968. During that meeting the regents set up a Martin Luther King Jr. Scholarship Fund.
Around the time of King's assassination, it appears a group of students used force to "close a building," which Robben Wright Fleming, university president at the time, called "intolerable," according to the 1968 meeting minutes.
"However, on a day near that of the assassination of [King], emotions ran deeply. Seen in the contact of events and given the horror of the assassination of Dr. King, one could tolerate interference in that situation," the minutes state. "Further, [Fleming] said the regents did not condone the action, but viewed it differently in light of the given movement."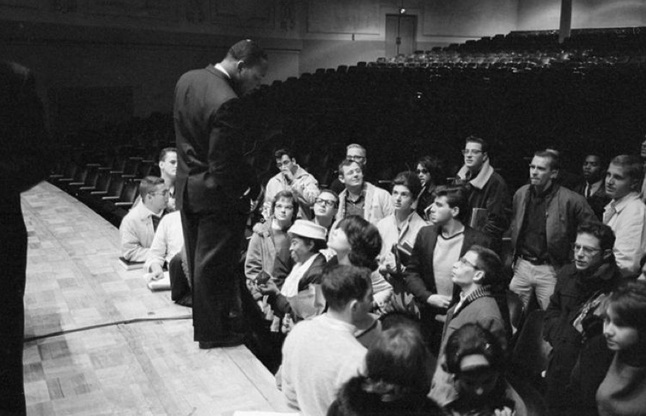 University of Michigan Bentley Historical Library
In this image, King speaks with students after his Nov. 5 speech.
Just months before, in July, King had been arrested and jailed after a protest in Albany, Georgia.
"It wasn't a big crowd, it appears to be somewhat small," said Jania. "I don't think it was of campus-wide interest at the time… it's conceivable that it was maybe a last minute kind of thing, so publicity didn't get out."
University of Michigan Bentley Historical Library
In this image, King is pictured during a discussion in an undetermined campus location.
Three years later, in 1965, King would visit Michigan State University's campus in East Lansing. According to archives, more than 4,000 students attended that lecture.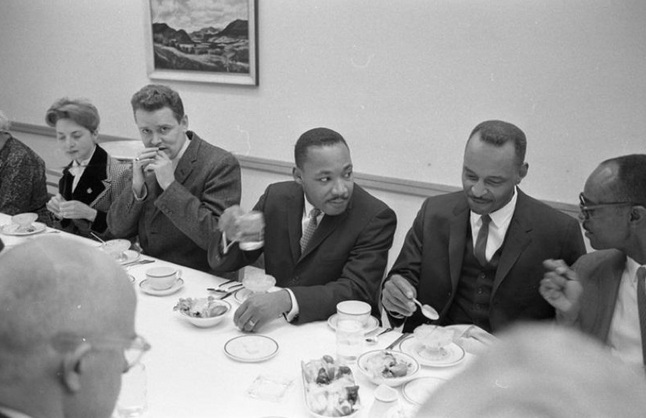 University of Michigan Bentley Historical Library
King pictured here at U-M.
Jania said there was little press coverage of King's visit and details about his lecture are sparse.
"It's not very well documented," she said.
Kellie Woodhouse covers higher education for AnnArbor.com. Reach her at kelliewoodhouse@annarbor.com or 734-623-4602 and follow her on twitter.