Posted on
Fri, Jan 29, 2010 : 4:41 p.m.
University of Michigan, Blue Cross Blue Shield of Michigan collaborating to cut rehospitalizations
By Tina Reed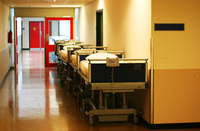 The University of Michigan and Blue Cross Blue Shield of Michigan are backing a statewide initiative meant to cut back on hospital readmissions that occur for up to 1 in 5 patients.
The campaign, called Project BOOST, is meant to help mitigate the risk of complications that could land high-risk patients back in the hospital after being discharged. Focusing on improving the discharge process at hospitals, it is a model that has been used around the country.
The goal of the program is to help reduce unexpected and preventable readmissions for the health and quality of life of patients, said Scott Flanders, U-M's director of the hospital medicine program and president of the society of hospital medicine. Often when a patient is discharged from the hospital, follow up tests and care with a primary care physician is recommended. In the pass-off, patients can fall through the cracks.
Reducing cost is also a major factor driving the project.
According to Blue Cross Blue Shield of Michigan data on a majority of its patients, about 1 in 10 patients discharged from the hospital are readmitted within the month. 
Even when adjusting for readmissions unrelated to the original problem or planned readmissions, at least 6.4 percent of discharge patients return to the hospital with unexpected and potentially preventable problems. That represents an opportunity to imrpove quality and save up to about $75 million every year, said Tom Leyden, a manager in clinical programs with Blue Cross Blue Shield.
And according to national Medicare data, about 20 percent of senior patients discharged from the hospital unexpectedly return within the month, costing more than $17 billion nationally each year, according to a statement.
"It's substantial," Leyden said. "That's a lot of patients who come back in who shouldn't really have to."
Reviewing the way hospitals discharge patients is important because not every patient is equal at discharge, Flanders said.
Some get new medications to take every day or get new regimens and may get confused about how to best take care of themselves. Steps like identifying who the highest risk patients are and targeting them for more intensive support after discharge could help reduce their chances of being readmitted, Flanders said.
Solutions for these patients include having a health professional take extra time to explain medication instructions and having a patient or caregiver verbally "teach back" what they were instructed to do. It can also includes follow-up phone calls and direct communication with a patient's primary care physician. The steps could be the difference that keeps a patient's medical issue from returning in a serious enough way to land him or her back in the hospital, Flanders said.
For example, he said, when a patient is hospitalized and treated for congestive heart failure, it means the heart is not pumping as well as it should, and fluid can build up and needs to be addressed by a doctor.
"But if patients go home and don't rigidly adhere to instructions on taking medications and salt intake, then the fluid can build up again," Flanders said. "If a patient is telling a primary care doctor they can't breath again, they can make changes … so (the patient doesn't) end up in the hospital again."
In the coming weeks, 15 hospitals will be chosen across the state to participate in the program. By May, programs will begin to be set up, and training will be offered to staff. The University of Michigan is leading the effort with the Society of Hospital Medicine.
Tina Reed covers health and the environment for AnnArbor.com. You can reach her at tinareed@annarbor.com, call her at 734-623-2535 or find her on Twitter @TreedinAA.