Posted on
Thu, Feb 16, 2012 : 4:47 p.m.
Age limits abolished for top University of Michigan officials
By Kellie Woodhouse
The University of Michigan Board of Regents abolished age limits for top administrators on Thursday, saying that the decision was not "about any individual whatsoever."
A university bylaw called for the president and executive officers to retire during the fiscal year they turned 70.
The university's legal office asked the regents to abolish the rule at their monthly meeting on Thursday, claiming the rule constitutes age discrimination and is in violation of Michigan's Elliott Larsen Civil Rights Act.
The change passed unanimously by the regents.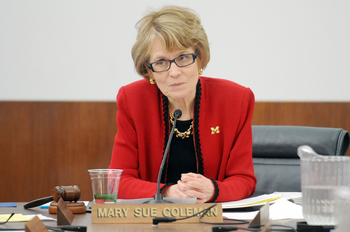 Melanie Maxwell I AnnArbor.com
According to Jacki Miller, spokeswoman for the Michigan Department of Civil Rights, public employers "cannot force someone to retire based upon age."
Sally Churchill, U-M vice president and secretary, called the elimination a "housekeeping change."
Churchill said the university published the age limit change, along with other proposed bylaw changed, and received no complaints.
For 68-year-old President Mary Sue Coleman, who has an Oct. 2. birthday, the rule would have taken effect during the 2013-2014 fiscal year. Coleman's contract is set to expire in July 2014.
Regent S. Martin Taylor said the rule change had nothing to do with Coleman.
"Our motivation complete and total is that the lawyers advised us the bylaw ... is in violation of the law," he said.
The regents approved several other revisions to the university bylaws.
They include changing the title and job description of the school's vice president for communications (now the vice president for global communications and strategic initiatives) to establish a global focus.
Tenure, promotion and resignation procedures were also amended to give the provost a role in them.
Kellie Woodhouse covers higher education for AnnArbor.com. Reach her at kelliewoodhouse@annarbor.com or 734-623-4602 and follow her on twitter.