Posted on
Tue, Aug 13, 2013 : 4:23 p.m.
University of Michigan bus strikes railroad bridge in downtown Ann Arbor
By Kellie Woodhouse
A University of Michigan bus struck a downtown Ann Arbor railroad bridge with a low clearance on Monday evening.
Kellie Woodhouse | AnnArbor.com
The bus, a new hybrid model, was empty aside from the driver, who was not injured, university spokesman Rick Fitzgerald said.
The incident occurred at about 7:40 p.m at a bridge over West Washington Street near First Street.
The bridge's clearance is 10 feet, 6 inches. The clearance is clearly marked on the bridge for oncoming traffic.
The driver, according to Fitzgerald, was off route and on his way to a U-M garage.
Fitzgerald said the bus sustained minimal damage.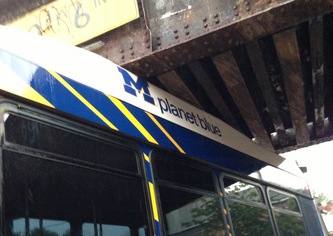 Kellie Woodhouse | Ann Arbor.com
The bus was lodged underneath the railroad bridge. To free it, individuals on the scene released air from the air suspension system, causing the bus to lower. The bus was towed back to U-M.
A similar incident occurred May 29 when a Coca Cola truck was two feet too tall for the railroad bridge.
Similar incidents at the bridge have occurred several times before; however, an Ann Arbor Police Department spokesperson could not provide additional information Tuesday about the incident and the frequency of incidents at the site. A duty command officer declined to release information on Monday's incident to AnnArbor.com.
Kellie Woodhouse covers higher education for AnnArbor.com. Reach her at kelliewoodhouse@annarbor.com or 734-623-4602 and follow her on twitter.