Posted on
Sun, Feb 21, 2010 : 4:58 a.m.
U-M Center for Educational Outreach hopes to encourage 'college-going culture' in Michigan
By James Dickson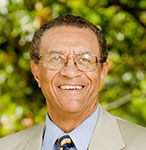 Courtesy, U-M Center for Educational Outreach.
Dr. William Collins has made a career of helping students adjust to college life. Since mid-2008, he's been the director of the University of Michigan's Center for Educational Outreach.
The center's mission is to help communities around the state establish a culture that encourages kids to pursue a college education. It's part of the university's effort to recruit a more diverse student body.
Collins got his start as staff psychologist. In Wisconsin, at Cornell, and more recently as the director of U-M's Comprehensive Studies Program (1992-2008), Collins has long worked with high-achieving students to help them translate their high school success to the college level.
The biggest challenge students face at the college level, Collins said, is "independence 101" - doing the right thing without the arm-twisting of parents.
Collins' task as director of the Center for Educational Outreach is to promote the benefits of a college education. The center works with administrators, students, and parents around the state, and acts as a liaison between secondary schools and the university's various departments.
The Michigan economy isn't what it used to be. The times when a high school graduate in Southeast Michigan could rely on the factories for work have gone and won't return.
Brainpower, Collins believes, is Michigan's best hope for breaking the grip of double-digit unemployment.
Sometimes parents in a community will shy away from sending their children off to college. Sometimes only the boys are allowed to pursue a higher education.
Finding the money to attend one of the most expensive public universities in America is another worry. Especially in this economy.
In situations like these the center locates U-M students and alums from those very communities who can inspire, give perspective and address concerns. Where university resources can be brought to bear - a financial aid officer to discuss money matters, a summer program for talented students who need a taste of college life - the center reaches out to the appropriate department.
Collins said that when students see college as a legitimate possibility, and hear words of encouragement from others who had similar experiences and backgrounds, they tend to work harder, knowing that the rewards are coming later.
The university may not be able to admit every student touched by its resources, he admits, but fostering a college-going culture will mean that U-M can continue to attract and admit "the best of the best."
Even though the center was formed as a result of the university's Diversity Blueprints Taskforce report, Collins said that its resources reach far beyond minority communities.
The center runs outreach programs and has established partnerships all over the state.
In Ann Arbor, the center has partnered with the public school system to establish a "Rising Scholars" program. Ann Arbor Public Schools are some of the state's best, but the district is plagued by an achievement gap between white and minority students. Beyond the center's typical outreach efforts, participants in the "Rising Scholars" program are encouraged to challenge themselves in Advanced Placement courses.
Meanwhile, the College Corps program, for middle- and high-school students in Monroe, brings U-M students to Monroe to discuss the college application process, goal-setting, college terminology and, most importantly, financial aid and scholarship resources.
College Corps is a partnership effort with Project Community and a student organization named "Maximizing Academic Success."
"Higher education empowers you to be a different person than you otherwise might be," Collins said. "We want every young person in this state to have that opportunity."
James David Dickson can be reached at JamesDickson@AnnArbor.com