Posted on
Sun, Oct 3, 2010 : 12:42 p.m.
University of Michigan creates the state's first human embryonic stem cell line
By AnnArbor.com Staff
University of Michigan researchers announced today they've created the state's first human embryonic stem cell line.
The announcement comes just one day before the World Stem Cell Summit begins in Detroit, featuring Sean Morrison, director of the U-M's Center for Stem Cell Biology, as one of dozens of guest speakers.
U-M said the new cell line, known as UM4-6, is the culmination of years of planning and preparation and was made possible by Michigan voters' November 2008 approval of a state constitutional amendment permitting scientists to derive embryonic stem cell lines using surplus embryos from fertility clinics.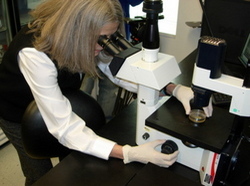 "This historic achievement opens the door on a new era for U-M researchers, one that holds enormous promise for the treatment of many seriously debilitating and life-threatening diseases," U-M President Mary Sue Coleman said in today's release. "This accomplishment will enable the University of Michigan to take its place among the world's leaders in every aspect of stem cell research."
Work on UM4-6 began in May, and detailed characterization of the line was completed in late September. The project was conducted without federal funds, using private gifts to U-M's Consortium for Stem Cell Therapies and internal U-M resources, according to the university.
With the derivation of UM4-6, U-M joins a select group of fewer than a dozen U.S. universities that have created human embryonic stem cell lines, the release said.
"The real importance of today's announcement is that the ability to derive new embryonic stem cell lines will allow us to take the next step: disease-specific research that could someday lead to new treatments," Gary Smith, leader of the derivation project at the U-M Consortium for Stem Cell Therapies, said in the release.
UM4-6 was derived from a cluster of about 30 cells removed from a donated 5-day-old embryo, which was created for reproductive purposes but was no longer needed and was about to be destroyed, the university said.
The consortium will distribute UM4-6 samples to stem cell researchers across campus and to their collaborators statewide. In addition, U-M researchers hope — pending the resolution of a federal court case that seeks to bar federal funding for human embryonic stem cell research -— to submit UM4-6 to the U.S. National Institutes of Health for inclusion in the national registry of human embryonic stem cell lines that are eligible for federal research funding.
A total of five U-M officials will speak at this week's summit, from Monday through Wednesday at the Marriott Renaissance Center in Detroit.