Posted on
Mon, Jun 10, 2013 : 3:01 p.m.
New University of Michigan policy requires pre-employment background checks and education verification
By Kellie Woodhouse
The University of Michigan now requires all job candidates to undergo a pre-employment background check and has expanded such checks to include education verification.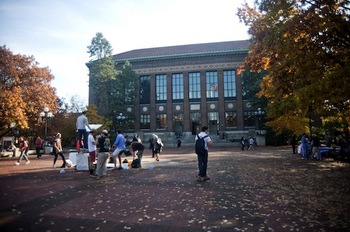 AnnArbor.com photo | Joseph Tobianski
Prior to the June 1 policy change, the university required background checks for on-campus staff positions and health system staff and faculty. However academic departments weren't required to conduct background checks on job candidates and staff departments weren't required to verify an applicant's education.
Those decisions used to be made at the discretion of the hirer. Now, they're mandatory.
Rick Fitzgerald, university spokesperson, said these particular changes were discussed in "late 2012," sometime in November or December; although university officials first began reviewing the school's background policy about a year ago, he said. Fitzgerald did not know exact dates.
According to minutes from a December 13, 2012, regents' meeting, the Board of Regents Personnel, Compensation and Governance Committee began discussing the school's background policy that month. Minutes from a February 21 meeting indicate that the committee was "provided an updated policy on background checks" that month.
"We already were doing background checks in most areas and it just made sense to make it a more comprehensive policy," Fitzgerald said.
U-M's former social media director Jordan Miller was forced to resign Dec. 11 after it became public she hadn't received her bachelor's degree, contrary to claims on her resume and employment application. Miller was hired in February 2012.
At the time, Fitzgerald said it was rare for an inaccurate employment application to come to light after someone had worked in their position for a while. In a recent interview, Fitzgerald said the change in policy was unrelated to Miller's resignation.
"One employee doesn't drive a policy at the University of Michigan," he said.
In addition to verification of the highest academic degree disclosed by a candidate, employee background checks will include a criminal conviction check.
A full-time, part-time and temporary job candidate must now receive a background check before receiving a non-contigent job offer. Newly appointed staffers also may receive background checks.
Last year the university conducted 6,000 background checks. This year, due to the policy change, the school expects to increase that number.
"It is important that the university's academic, research, patient care and service missions are supported by qualified employees with a safe and secure environment for all," U-M Provost Martha Pollack and Head of Human Resources Laurita Thomas said in an email message to university deans, directors and department heads. "One way to accomplish this is through the use of background checks for new members of our work force."
Kellie Woodhouse covers higher education for AnnArbor.com. Reach her at kelliewoodhouse@annarbor.com or 734-623-4602 and follow her on twitter.