Posted on
Wed, Jan 13, 2010 : 4:50 p.m.
University of Michigan expert weighs on government study showing U.S. obesity leveling off
By Tina Reed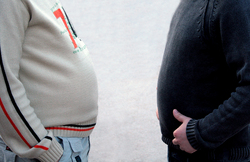 Obesity continues to be a major problem in the United States, but it appears the number of obese and overweight Americans has leveled off in the past decade - at least among women, according to a government study published online today.
Obesity among both adults and children didn't appear to be growing at rates seen in previous decades, the report found. Still, more than 30 percent of adults and 17 percent of children are considered obese in the U.S., according to the paper.
The study was conducted by researchers at the National Center for Health Statistics, part of the U.S. Centers for Disease Control, and was published in the Journal of the American Medical Association.
A caveat in the findings is the fact that obesity among men did increase from more than 27 percent in 1999 to 32 percent in 2008. While obesity among children also didn't see significant increases, researchers pointed out this wasn't true for boys between the ages of 6 and 19 at the very heaviest weight levels.
The findings been reported in the New York Times, USA Today and other major media outlets.
AnnArbor.com spoke to Julie Lumeng, an assistant professor of pediatrics at the University of Michigan who specializes in studying childhood obesity.
Q: Why is this data such a big deal?
A: "It's like the authoritative data every doctor relies on … I was very excited to hear this information was coming out today. The reason it's so exciting is because, with so many efforts going on to fight the prevalence of obesity, it tells us what's happened over the past 10 years. It's seemed to level off, it's not going up and up and up the way it was in the '90s, so it seems those efforts are working. The question is, 'Why?'"
Q: What strikes you about the results?
A: "Even though it's good news that (obesity rates are) leveling off, it's still like one in three people are obese. If one in three women are obese and 64 percent are overweight, it's a rarity to be of normal weight. Now the question is why some men and women are a normal weight because these people are in the minority."
Q: What do you think?
A: "It's fascinating because it seems like a simple problem - eat less and exercise more - but if it were that easy, it wouldn't be such a problem. It's very complex."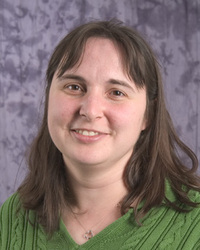 Q: What do you think about the findings related to children?
A: "It's fascinating (about the difference in boys). Why that is is anyone's guess, which is why this issue is so complicated. One thing you could consider (is) there's less stigma about a boy being heavy … It's likely to affect this demographic more if parents aren't that concerned about it. How often do you hear a parent talk about their 'big strapping boy?'"
Q: What can you as a researcher do with these findings?
A: "The reasons we do what we do is because the prevalence of obesity is so high. As researchers and clinicians know, this is a very complex issue, and this data reinforces what we already perceive, that this remains a very complicated problem that isn't going away anytime soon."
Q: What are you researching on right now?
A: "The prevalence of obesity is higher among children of low-income populations. In particular, we are looking at stress eating in children the same way adults might eat when they're stressed. For instance, if you or I got stressed, we might think, 'A piece of chocolate cake would make me feel better.' And it does. It is true it releases chemicals in your brain that make you feel better. We've seen this in studies with animals. So we're working on looking at - if a child is throwing a tantrum because they really want that cookie, are they looking to regulate their moods … When we look at low-income children, when they have access to food, do they binge?"
Q: But clearly this is not just an issue for those people living on a low income …
A: "No. And it shows there's no single reason for obesity. It's a problem for every demographic group … There are some things we do know, of course, TV-use, computer use, people not walking as much, junk food being more prevalent, fast food availability … I feel solving these problems is going to be a legislative issue much in the way smoking was. But we are so far from that politically because people see this as such a self-control, personal issue."
Tina Reed covers health and the environment for AnnArbor.com. You can reach her at tinareed@annarbor.com, call her at 734-623-2535 or find her on Twitter @TreedinAA.